When Sandra Cotterell first arrived at Codman Square Health Center nearly 17 years ago, she was already well on her way to an impressive career in nursing and health care management.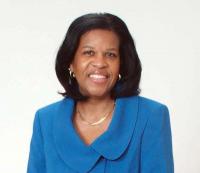 Cotterell: Sandra Cotterell: New Codman CEOBorn and raised in Boston and a product of Boston public schools and Simmons College, Cotterell was attracted to the Codman center because of its holistic approach to serving patients— and its dynamic, hands-on, totally wired leader, Bill Walczak.
This week, Cotterell is making plans to take Walczak's spot as the center's chief executive when he leaves next month to assume the presidency of Carney Hospital.
"If you could create a successor, she'd be the one you'd create," says Charlie O'Hara, a founding member of the Codman Square Health Committee. "She's a wonderful person and very competent. And, as Bill has said, she's well loved. I've worked with her, and the health center is in good hands."
Walczak, who recommended Cotterell take his place, agrees.
"Sandra is a great communicator and I have total confidence in her," Walczak said this week. "She'll leave her own mark on it."
A mother of three teenagers who teams up with her husband, Ian Cotterell, to help run a Pop Warner football and cheerleading program for kids in Boston and Brookline, Cotterell has served as Codman's chief operating officer for the last six years. She has filled in for Walczak during his occasional trips to promote Codman's community health care model in Africa and elsewhere — including a three-month stint as interim director in 2007.
Still, when Walczak called her last month to say he was considering the top job at Carney, Cotterell admits she was stunned.
"I always envisioned that he would be here and I'd be working with him," Cotterell said this week. "I never imagined it. As a colleague, I just embraced it for him personally. I knew it was a struggle for him to make the decision, knowing that it was a Dorchester-based hospital and his passion for Dorchester. I said, 'Bill, you've gotta do it.' I was honored to be considered by the board to step in."
While she has long been Walczak's right-hand at Codman, Cotterell has mainly been a behind-the-scenes player. Her new title will require her to take on a role that Walczak has played since the mid-1970s.
"Bill has always been the face of the health center, but I've always been behind the scenes implementing and operationalizing the vision and making it happen.  He'd say 'we're going to do this' and I'd be behind the scenes making it happen."
"Now I see my role as being both internal as well as external," Cotterell told the Reporter.
Cotterell is a Mission Hill resident who attended Tobin Middle School and Roslindale High before earning a degree in nursing from Simmons. After working at Massachusetts General Hospital and New England Medical Center for a decade, she accepted a supervisory role at Bay State Health Care, a managed care company. Within eight years, she was vice president in charge of clinical services with 15 people under her direction. But, when she heard about an opening at Codman, she decided that she was ready to return to a setting that would allow her to mix her clinical and managerial skills. It was good timing on her part, as Codman had just moved most of its operations into a renovated nursing home on Washington Street— more than tripling the space of the center's original home inside an old city library on Norfolk Street.
"Bill gave me the whole tour of the neighborhood and the facilities," she recalls. "I said, 'You mean to tell me all of this fit over there?' I was fortunate to come in at a time when we were really growing.
"And there was a real sense of community. The vision was broader than health care and you got that from Bill. There was a real sense of teamwork and I wanted to be part of the team."
Cotterell has since been involved in nearly every aspect of running Codman, including the formation of a unique partnership between the center and Dorchester House, dubbed DotWell. (Cotterell serves on the board of DotWell.) Her duties have included human resources, so she has hired most of the physicians, nurses, and staff of Codman's 250 employees and interns.
Her immediate challenges include supervising the post-Walczak transition and making final preparations for a $15 million expansion project that will add more than 32,000 square feet to the campus. Much of the new structure will provide more space for Codman Academy, a charter high school that Walczak helped to create.
"For me, the vision will continue," Cotterell said. "If anything, my legacy would be to see that it's more seamless. When I'm meeting with a lot of our clients, I realize that their needs are so broad. I'm amazed at the social complexity of what people are dealing with, whether they are raising their kids' kids or they're struggling with housing — and we can help provide resources around those."
Cotterell has been especially proficient at striking a balance between Codman's expanding services and its always tenuous-budget cycles. As an independent center — it receives only about $300,000 per year in federal funds— Codman, like Dorchester House, must be particularly careful to live within its means.
"In my tenure here we've gone through a lot. There were times where we hit some tough times financially. I can think of a time in which we were losing a significant amount of money because of how we were billing. A lot of things we do are non-reimbursable, but it's the right thing to do because it makes us holistic in how we provide care. I'm really creative with that and I think, with years of training and knowing, there's a creative way with everything," she said. "Sometimes I have to say no, but whenever I say no I also offer a solution."
One of the dynamics likely to change in the coming years will be Codman's relationship with Carney Hospital, which, despite its proximity, has not been the top preference of many of Codman's referrals. Walczak's new role as Carney's president — effective Feb. 15 — is certain to enhance the ties between the two facilities, although how quickly and to what extent remain open questions.
"I know Bill and I will be talking," Cotterell allows. "It's interesting: We have at least one provider who recently joined us—  Dr. Noel — who was originally part of [Boston Medical Center] and has gone to Carney and we recently contracted with him.
"A lot of it will be the relationship with the providers. A lot of times, patients go where their doctors tell them to go and where their doctors have good relationships.
"A lot is going to be Bill's work at the Carney and its reputation as a viable institution that provides good quality care," Cotterell said. "It's a very competitive market and if anyone can do it, it's him."
Walczak and Cotterell are clearly like-minded in their assessment of the local and national health care system: The hyper-competitive, redundant, and costly system we know today needs to change — and places like Codman and Carney needs to be more cooperative parts of such a transformation.
"Health centers have a role, community hospitals have a role, and tertiary hospitals have a role," Cotterell said. "And health care as we know it is a disaster right now because everyone is competing for the same business. If they know you can make money in MRIs, everyone wants to do MRIs, instead of realizing it may be better for this hospital to do that. You get a level of care here at the community health center and that's what ultimately will help with our cost structure. Right now it's just a free for all."