By
Staff
February 11, 2011
Kim Gross, Jr., 18, was arrested today on charges he stabbed two men, one fatally, on a 44 bus on Nov. 2.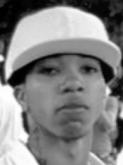 AllanBoston and MBTA police say Gross stabbed Richard Allan, 21, as the bus approached Humboldt Avenue and Wyoming Street around 9 a.m. A nurse at the nearby Trotter School performed CPR on Allen to no avail; he was pronounced dead at Boston Medical Center. A second man, 18, survived.
Gross is expected to be arraigned Monday in Roxbury District Court on charges of murder, assault and battery with a dangerous weapon for the November attacks and for unlawful possession of a firearm for an unregistered firearm recovered from the car in which he was arrested today, the Suffolk County District Attorney's office reports.
Officials say their investigation into the incident continues. At the time, police said they were searching for four men spotted fleeing the bus.
In a December interview with the Reporter, Allan's mother, Celeste discussed how her life had changed since his death and her plans to work against further violence and memorialize its victims.
Gross's His arrest comes the day after a Suffolk Superior Court jury began hearing evidence in the case of a man charged with gunning down a rival gang member on a 23 bus in Dorchester on March 30, 2008. Jonathan Sanders is charged with first-degree murder.