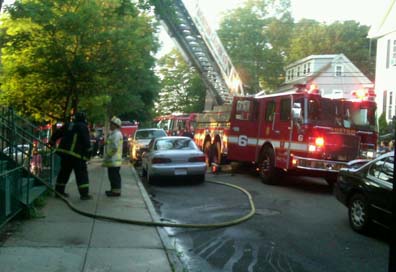 Butler Street apartment fire: The scene outside 68 Butler Street this morning. Photo by Ryan Whitcomb
(Updated, 9:30 a.m.) — Boston firefighters pulled an unconscious 68 year-old woman from a burning fourth-floor apartment in Lower Mills early this morning. The victim was suffering from burns and smoke inhalation. She was transported to Brigham and Women's Hospital where she is now in the intensive care unit, according to fire officials.
Fire fighter Steve MacDonald, a spokesman for the Boston Fire Department, told the Reporter that the cause of the fire is believed to be careless disposal of a cigarette in the victim's living room.
The fire broke out just before 5 a.m. in a four-story apartment building at 68 Butler Street on a quiet, residential street next to the Butler Street T station. The one-alarm fire caused an estimated $50,000 in damage. No one else was injured in the incident.