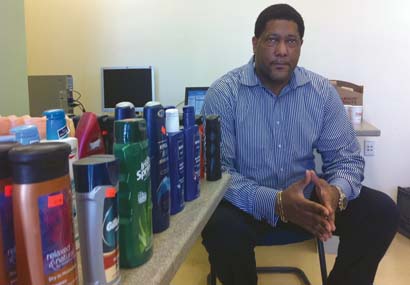 B-3 Detective Vance Mills: Shown with some of the allegedly stolen items that were confiscated from Lili's Market. Photo by Bill ForryBoston Police plan to file criminal charges against the owners of a Mattapan convenience store that was raided last Friday afternoon following a probe into the alleged re-sale of goods stolen from nearby chain pharmacies.
Detectives from Area B-3 say that the operators of Lili's Market at 1286 Blue Hill Ave. purchased items from undercover officers who presented the goods — including baby formula, diapers and cosmetic supplies— as items that had been shoplifted from other nearby stores. The store owners eagerly purchased the allegedly boosted items at a deep discount: 25 cents on the dollar.
In addition to the items sold to the store owners by undercover officers in recent days, the Friday afternoon raid also recovered some $2,500 worth of merchandise that police say was actually stolen from the shelves of larger chain stores just blocks away.
The crackdown comes in response to widespread shoplifting at chain stores like CVS, Rite-AID and Walgreen's, which collectively estimate that they lose millions per year from criminals who brazenly shoplift and boost the stolen wares at smaller corner shops.
The three companies have teamed up to help Boston Police track down and crack down on the secondary market that are re-selling the stolen goods. This is the second such raid in Boston in the last year: A Dudley Square store— Brown's— was busted in a similar operation last July that netted an estimated $20,000 in stolen merchandise.
"[Lily's] had come up in the course of our investigation as a neighborhood store that would buy shoplifted goods," explains B-3 Sgt. Detective John Ford. "After some controlled sales using undercover officers bringing in items, we established that in fact it was a common practice there."
Detective Vance Mills, who led the investigation for the B-3 district, said that Lily's is not the only local store suspected as a regular conspirator in the re-sale of stolen goods.
"In fact, while we were there [conducting the controlled buys], we were told that they didn't need certain items, but that another store would buy it, because they buy everything," Mills said.
Det. Mills said that the husband and wife team that owns the store was mostly "cooperative" during the police raid, in which officers seized cartons of health and beauty products, some still bearing the tags from the larger chain stores. "They were somewhat in denial. We issued them a license premises citation."
Sgt. Det. Ford said that police will file formal charges against the store owners for conspiracy to receive stolen goods. Ford expects that they will also face sanctions from the city licensing board, which has been notified of the police action.
Security officers for the local pharmacy chains that assisted Boston Police in the operation say that the shoplifting trade is a "vicious cycle" churned mainly by low-level thieves and drug abusers seeking quick money for their habits. But, individual stores can lose thousands of dollars every week from thefts— with most of that product being re-sold at secondary, smaller markets in city neighborhoods.