By Reporter Staff
September 11, 2012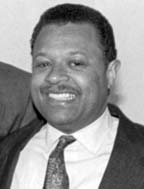 Bruce Bolling, a former Boston City Councillor and mayoral candidate, died on Tuesday morning from prostate cancer. He was 67.
Bolling was elected City Council president, the first African American to hold the position, in 1986.
Bolling ran as one of "Kevin's Seven," a slate of candidates backed by then-Mayor Kevin White, and he was the only one among the candidates who won in 1981. As a district councillor, he represented District 7.
He lost a 1991 race for at-large, but he was appointed to one of the at-large slots after City Council President Christopher Iannella died in 1992.
He ran for mayor in 1993.
Bolling came from a politically-inclined family from Roxbury: He was the son of Royal Bolling, Sr., a state senator, and his brother Royal served as a state representative. His wife, Joyce Ferriabough-Bolling, is a longtime political consultant. The couple have one son, Bruce Bolling, Jr.