By Elizabeth Murray, Special to the Reporter
May 24, 2012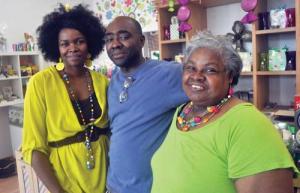 A Sweet Place: The owners of the new Fields Corner store A Sweet Life won an online contest and a visit from 'Cash Mob Dorchester' on Monday. From left, Beverly Hilaire, Edwin Hilaire, and Mae Riggs, Beverly's mom. Photo by Bill ForryThe Dorchester 'Cash Mob' struck again this week, as members of the group swarmed a new Fields Corner candy shop, 'A Sweet Place', in their ongoing attempt to bolster local businesses and the neighborhood economy.
The Dorchester Ave. store— located right next to the Fields Corner Branch Library— opened on April 16. Executive Director of Fields Corner Main Street Evelyn Darling said many people in Dorchester did not even know the business was there. This event helped "create a buzz", she said.
The Cash Mob aims to support locally owned businesses by pushing a lot of revenue into local businesses at one time. The events are usually day-long so the "mobsters" do not overwhelm the business. When they enter the business, they get a free bracelet if they say they are part of the 'mob.'
Dorchester Cash Mob co-founder Larry Marino said he estimated about 40 to 50 people from the Cash Mob purchased items from 'A Sweet Place' on Monday. Those interested in taking part of the Cash Mob can join a group on Facebook (Cash Mob Dorchester) or follow the 'mob' on Twitter (@cmdorchester) to find out where the next cash mob will take place.
The 'mob' chose 'A Sweet Place' through a group survey over Facebook. Though this was the third time the group had mobbed a store, it was the first time it used this method of choosing a business to mob.
"Usually, people throw out names and I pull a business out of a hat," Marino said. "This time, we let everybody else pick."
Marino said this method will definitely be used again and the next Cash Mob will take place at Flat Black Coffee in Ashmont from 11 a.m. to 12:30 as a sort of meet-and-greet for 'mobsters.' He is hoping to get ideas as to how to improve the 'Cash Mob' from this event.
When owner of 'A Sweet Place' Beverly Hilaire of West Roxbury found out her store was nominated to be cash mobbed, she said she was excited, but she was almost too busy to "take it and run with it" with her three children and her new store. As the end of the voting period drew near, Hilaire realized 'A Sweet Place' only had one vote.
Hilaire and her family members, most of whom have Facebook profiles, used the social network to make a comeback. Literally overnight, 'A Sweet Place' went from having one vote to having 107 votes and winning the contest.
"We were literally sending out the emails at the same time we were trying to figure out how to vote ourselves," Hilaire said. "We figured it out and put it in the email: what is Cash Mob, how do you register, join and vote, and we need to win. We changed everybody's [Facebook] statuses in the family . . . and then we just did email blasts and backed it up with text messages to let them know they had something in their Facebook inboxes because everyone's not on all the time."
During a lull in the Cash Mob event on Monday, Hilaire told the Reporter that she expected to make between $500 and $1000 for the day. Hilaire said in the month it has been in business, 'A Sweet Place' made between $100 and $125 on rainy days and about $250 on other days.
As a thank you for being chosen, 'A Sweet Place' was giving a half dozen truffles to those customers who spent $25 or more on that day.
"We [also] did some samples," Hilaire said. "They tend to go toward the chocolates. We've been taking pictures. It's almost like A Sweet Place's time to be a celebrity, in a sense. I knew it would be good, but I didn't think it would be this good."
Darling, who has acted as a sort of marketing mentor for Hilaire, said the idea of a 'cash mob' was a brilliant marketing ploy.
"[Hilaire] did everything right," Darling said. "She took the idea and ran with it and used her network and used Facebook to its fullest potential."
Even Hilaire's mother, Mae Riggs, who helps out around the store to "get out of the house," said social media turned out to be the driving force for marketing the business so far.
As for the future of 'A Sweet Place,' Hilaire said the store is trying to get a license to serve food and drinks, so it will hopefully have cupcakes, coffee and ice cream by August.
Mae Riggs said opening a candy shop was a long-time dream of her daughter, who wanted to do business in a familiar neighborhood where she knew kids frequented.
"She grew up in Dorchester, Roxbury and Mattapan," Riggs said. "She just wanted a place where she could bring back her memories, so she could say, 'I remember when my mama used to take me to the candy shop.'"
Also new to Dorchester Ave. is Porta Classica, a menswear shop that opened on May 17, replacing a vacant space that was previously home to a laundramat. Owner Shev Sharma of Cambridge said business is slow so far, but even though the store is new to the street, it is not completely new to the area.
"We have two other stores in Dorchester, one is in Grove Hall, the other is in Mattapan," Sharma said. "Everybody who comes in, they know our name, but they are not ready to buy yet. Sooner or later, we have very big hope that business will pick up."
Sharma noted that his location on Dorchester Ave. was a big plus and the large store windows should help attract customers. The business does not do rentals, but Sharma said the prices are low enough to be rental prices. Porta Classica also does alterations and tailoring right on the spot.
"We are very accommodating to people and we deal with everybody very nicely," Sharma said. "We try to always give our customers very good prices. . . It will be very nice if more people know about our business and come in to shop."