By Gintautas Dumcius, News Editor
July 10, 2012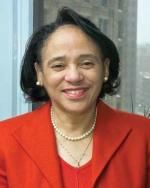 BPS Superintendent Dr. Carol Johnson: Council education chairman says she should step down. File photoThe chairman of the City Council's Education Committee is calling for Superintendent Carol Johnson's resignation.
City Councillor At-Large John Connolly said he was "appalled" at how Johnson had handled the case of a headmaster at the O'Bryant School of Mathematics and Science who was arrested on a domestic assault charge. The Boston Globe reported on Sunday that Johnson did not discipline Rodney Peterson after learning about the charge. Johnson said Tuesday she regretted taking a pass on disciplining Peterson, who would later plead guilty to "sufficient facts" and eventually resign.
Connolly told the Reporter that he is "more disturbed by the pattern of bad decisions over the past two years and I think I have lost confidence in her leadership." He said he is hoping the School Committee will take "appropriate action."
Connolly pointed to "chaos" during the debate over moving schools and closing schools and a state inspector general's report in April on the school district overspending on textbooks, among other incidents. The school year had rocky start as the system struggled to get buses to schools on time, which led to Mayor Thomas Menino to step in.
The troubles come as the teacher union contract remains unresolved.
"It's too big a pattern of bad decisions to not need change," Connolly said Tuesday.
In a statement about the Peterson case earlier today, Johnson, whose contract is up in 2015, said, "I wish I had done things very differently. I have had a chance to reflect on the facts and want to send a clear message that violence of any kind is never acceptable."
Johnson added: "And unfortunately by making the judgment call I did at the time, I sent a mixed message. The right thing to do is err on the side of caution. School leaders should always be placed on paid leave while investigations into domestic violence allegations are underway. I have directed our legal counsel and Human Resources teams to develop strict guidelines to address this sort of situation should this ever become an issue again. We expect to finalize these guidelines by the end of this week."
Television and radio host Jim Braude has called for Johnson to be fired following the Sunday Globe article on the Peterson case.
On his television show on Monday and again on the radio Tuesday morning, Braude compared Johnson to Cardinal Bernard Law, who resigned as archbishop of Boston after the priest sex abuse scandal and fled to Rome in 2002.
"Carol Johnson's behavior is like Bernard Law Lite: cover up and then no attempt to protect others who might be victims of an abuser in her employ," he said on his New England Cable News show.
Braude's guest on the radio on Tuesday morning, Suffolk County Sheriff Andrea Cabral, pushed back on the characterization when Braude reiterated his call for Johnson's firing, saying, "That's a bit much."
"I think it was a huge mistake not to put him on leave," Cabral said of the Peterson case. She added: "I would've put him on administrative leave."
A contrite Johnson appeared on Braude's New England Cable News show on Tuesday night, which Braude noted was at her request. "I learned a long time ago that when you make a mistake, you first admit that you made the mistake so you can learn from it, and then you move forward to try to correct the problem in a very serious way," she said.
Asked about Connolly's comments, Johnson spokesman Lee McGuire said in a statement, "The Superintendent is taking action to make sure something like this doesn't happen again. Her focus is continuing to build the best public school system in the nation to ensure every child in Boston has access to a great education."
(UPDATE: This story was updated at 8:52 p.m. with a link to Johnson's appearance on NECN and her comments. The post was updated further at 9:22 p.m. with comments from a Johnson spokesman.)