Like father, like son: Gerry Grealish, left, and his father Martin Grealish pack a one-two training punch at their family's Freeport Street gym. Photo by Bill Forry
Two years after their well-respected boxing gym was abruptly displaced from its Uphams Corner home of 12 years, the Grealish family is back in Dorchester with a new space on Freeport Street. The gym, which shares space with another fitness club in a second-floor walk up at 79 Freeport St., has been open for about two months, but is already buzzing with activity.
Martin Grealish, a 66-year-old native of Co. Galway, Ireland, and his son Gerry, a Boston firefighter, lead the daily training sessions at the gym. Nikki (Grealish) Dillon, Martin's daughter, also helps teach the sport to kids — some as young as five. And Martin's wife Yvonne, who grew up with a boxing pedigree of her own, is also a big part of the family business.
"It's awesome," Yvonne says of the venture. "We had a new kid who joined up yesterday and we told him, 'When you're up here, you're family.' Everybody takes care of each other. It doesn't matter if two guys just pummeled each other in the ring. Everyone shakes hands like gentlemen."
The Grealishes landed in Dorchester in 1982 from Ireland— where both Nikki and Gerry were born. Martin, their dad, worked days as a carpenter for the Boston Housing Authority, but his evenings and weekends were all about the sport of his youth.
"He just loved doing it," recalls Yvonne, whose own dad was a boxing referee. "He would roll up the carpet in the living room and all the kids from the neighborhood would be in there."
One of his young protégés was son Gerry, who started boxing at age 6. Now 33, and a Boston fireman, he notched a pro record of 4-1 before retiring to focus on his fire service career and the training of other boxers. In addition to winning a state Golden Gloves championship, Gerry boxed in competition when he was in the US Marines and won a gold medal in the corps' annual tournament.
Nikki, who lives on Pope's Hill where she also runs the popular Celtic Day Care center, teaches a three-times-a-week class for youngsters. She also competed professionally — starting at first as a fitness regimen, but turning to competitive boxing a year later.
"I've done a lot of sports and there is nothing like being in that ring and hearing the bell," Dillon said, adding that she has found the sport has a positive impact on her young charges as well:
"You will have kids come in and they're off the walls. Their teachers don't know what to do with them. They will come here and two months later they are completely different," she said. "It's an art form like chess. There is a discipline to it. Once you start boxing, it follows you outside the ring."
The clientele inside the Fields Corner building is a mixed-bag, reflective of the neighborhood itself. There are African-American and Latino kids from the Dudley Triangle and Blue Hill corridor, who caught on with the Grealish gym during its long stretch operating out of the old Maxwell warehouse on East Cottage Street. (The gym lost its space when the city seized the property from its owner –not the Grealishes.)
There are Irish-American firefighters who've adopted the Grealish gym as their Dot training ground. Their number includes many Boston firefighters who have a team that will compete in an upcoming benefit fight night in October at the House of Blues.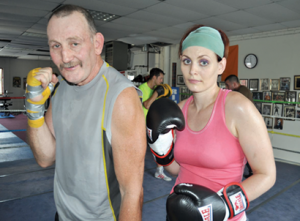 John and Maureen O'Brien: Father and daughter both train at Grealish's gym. Photo by Bill Forry
And there are women, too, like Maureen O'Brien, a 29-year-old Hull boxer who makes the trek to Dot daily to train alongside her dad, John, who works as a trainer with the Grealish clan.
O'Brien, the 2012 New England Golden Glove champ, is one of several fighters at the Grealish gym whose star is on the rise.
Joshua Dela RosaOver there, tuning up the heavy bag, is Joshua Dela Rosa, a 24-year-old corrections officer at South Bay who hails from Devon Street. Still training to go pro, Rosa recently won a big fight during a Battle of the Badges exhibition against the New York law enforcement counterparts at Foxwoods. Then there is Gabby DuLuc, a 23-year-old fighter with roots in the Dominican Republic who has been training with Martin since he was 12 years old. He turned pro last year and is now 6-0 with one knock-out, turned in during a bout at Mohegan Sun last month.
"Gabby and Martin have such a rapport," says Yvonne. "Gabby will actually take instructions from Martin in Gaelic (Martin's native Irish tongue.) People hear them together and say, 'Martin, when did you learn Spanish!' But it's Gaelic that he's speaking."
The Grealishes are seeing a lot of familiar faces at their new location, according to Yvonne. The central location is also luring in newcomers from Neponset and other Dot neighborhoods.
"We're seeing a lot of mums come in," says Yvonne, who notes that the gym offers an intense boot camp for women three times a week (Monday, Thursday, and Friday from 7:30 to 8.30 p.m.) "It's a great workout."
For more on the Grealish gym, check the website: grealishboxing.org