By Tom Jackson, Special to the Reporter
August 16, 2012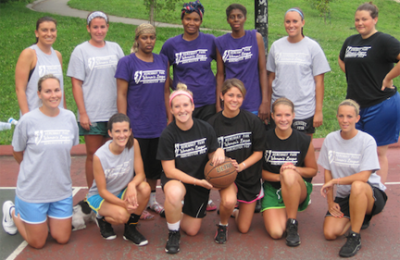 Hemenway Park basketball: Front row (l-r):  Casey Gavin, Jackie Anderson, Kayla Bolstad, Kelsey Giannone, Maria King, Lisa Del Tufo; back row: Michelle Lavioe, Gretchen Fritch, Marsha Blalock, Neycole Howell, Felicia Haynes, Molly Dalton and Kaelyn Sullivan. Photo by Tom Jackson
While most of Dorchester spends the dog days of summer trying to stay cool, there is a group of women who heat up the night every Wednesday as part of the Hemenway Park Women's basketball league.
"The heat isn't too bad, but the basketball is great," said Molly Dalton of Plain Street, adding "it's so much fun to come out and play every week."
Maria King of Milton Street echoed her sentiment: "I love this. We need more girls' activities, especially sports. Playing basketball is much better than the alternatives, like hanging out and partying."
The league, once a mainstay at Hemenway Park, was resurrected by Tom Leahy of King Street this summer.
"This is a great use of the park," said Leahy. "This was a good league when Lauren Smyth ran it. My best idea was to continue something good."
The league consists of six teams, currently, with athletes of all ages – from teenagers to 40-year-old mothers. Games are held between 6 and 9 p.m. The league truly is for all levels of play. The games are competitive, but there are several players who never played organized basketball beyond CYO or BNBL.
The regular season ended Aug. 8 and playoffs have begun. The championship game will be held on August 22 and there will be an All-Star game on Aug. 29, featuring four players from each team.
Like all good things that come to be, Leahy explained that this was a coordinated effort from the neighborhood.
"Lisa DelTufo and Molly Dalton were chomping at the bit and recruited a lot of the players," he explained. "Paula Skalinski helped with the communication effort. Victor Baldassari coordinates the referees. Allison Driscoll handles several administrative duties, including keeping the scorebook, and Jill Lamonica of the Leahy Holloran Community Center has given us access to the gym in case of rain."
Leahy added that "the sponsors from the neighborhood were generous" and they're listed on the back of the team jerseys. They include Ashmont Market, Blasi Cafe, the Leahy Holloran Community Center, Local 103 IBEW, and the Eire Pub.
Because of the sponsorship and the renewed level of interest, the foundation exists for continued success of the league. Next summer, they are looking to add more players of all ages (nineteen and up) and hopefully, more teams.
When asked about this showing of commitment to women's athletics, Leahy answered, "It's important, anyway, but I do also have two daughters of my own."
King's enthusiasm bodes well for the league.
"I would play year-round if the league didn't end in August," she said.