By Gabe Philbin, Special to the Reporter
April 12, 2012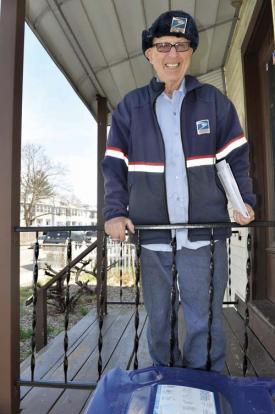 Herb Berman: At 85, still on the job in Adams Corner. Photo by Ed ForryNothing can prevent Dorchester's own Mr. Postman, Herb Berman, from working his route five days a week while enjoying his life and his close relationships within the community he serves.
"I could not be in a bad mood here," said Berman from his seat at Gerard's in Adams Corner. "I call it God's little acre."
Berman, a gregarious family man who turned 85 this month, has been delivering mail for the Postal Service for 52 years, beginning in 1960. He has been on this Dorchester beat since 1990, but he doesn't just drop off the mail at homes and businesses; he also picks up endearing friendships at nearly every stop along the way.
No stranger to serving his country, Berman was honored in 2006 for 50 years of doing so: four years in the Navy ("I was no hero," he says, noting that he never saw action because WWII ended while he was being deployed to Pearl Harbor), followed by 46 as a mailman. Six years later, he continues to add to his remarkable numbers as day after day he makes the rounds of Adams Village.
But Herb Berman isn't a one-dimensional man. He cherishes his family life: four children with his late wife Shirley – Arthur, Bruce, Carol, and Charlene – and two whom he has adopted in the spiritual manner: Satu Carlsten, a waitress at Gerard's, over the last seven years, and Otis Williams, of Roxbury, who joins Berman for dinner every Sunday night. "He's just wonderful," said Carlsten. "He's the best father you could ask for."
Herb Berman on his daily Minot Street route: Photo by Ed ForryWhat can a man say about 52 years of delivering mail through rain and snow and sleet and dark of night? Well, says Herb Berman: "From the minute I got in it, I loved it. It started as just a job. I knew I'd like walking around, and I knew I'd like being with people. For instance, a half century-later, there are two kids who give me a hug when they see me. After those hugs, I'm set for the rest of the day."
A third element in the life of this multi-dimensional man is his love of bowling, of the candlepin variety that until a fairly recent sharp decline was over the 20th century a highly popular pastime in New England and the eastern Canadian provinces. Herb Berman's name is a prominent feature on the rolls of that sport's Hall of Fame, into which he was inducted in 1987. He was a fixture in candlepin alleys across the region over decades, a marksman who competed in the top ranks and appeared on Channel 5's long-running championship candlepin bowling show.
As in any sport, practice makes champions, and Berman lived the game in his free time. "It was a pleasure for me because I just love to bowl," he said. Back in the day, he adds, "I loved the action. I think I bowled every day of the week."
What do his co-workers think when they see Herb Berman at 85 hoist his mailbag and head out the door? "That guy's a relic," said a colleague in jest." If so, he's a "relic" with lots of life left in him. He is proud of how he takes care of himself ("I have a lot of energy"), using what he says is a combination of Eastern and Western medicinal practices to stay active. He sees a psychiatrist, a spiritual healer, goes to the local YMCA for weights and yoga, visits a chiropractor once a month, and engages in the therapeutic system known as rolfing, which is a manipulation of deep tissue.
Lunch break at Gerard's: Photo by Ed ForryAnd every weekday when he's on the job, Berman takes his lunch break at Gerard's, his favorite eatery of the last two decades, showing up in full USPS regalia and being greeted heartily by the staff and the customers. The restaurant is a special place for him: full of friendly people, and classic music of yesteryear to accompany his food and drink.
Behind the family man, the postman, and the bowler, is a man of deep faith. "I'm extremely spiritual – huge on God," said Berman, who is Jewish and carries his faith ardently. This always-on-the-go octogenarian credits his beliefs for his longevity of health and spirit. Ever on the lookout for tips for a better life, he calls Peter Kelder's The Ancient Secret of the Fountain of Youth "the most important book I've ever read." Kelder emphasizes the efficacy of ancient Tibetan movements, which Berman and many others believe help prolong life while also increasing a person's physical, mental, and spiritual health.
For all that, Herb Berman is, simply, a man whose service for others has made him wealthy in friendships, healthy in life, and eager for many tomorrows.