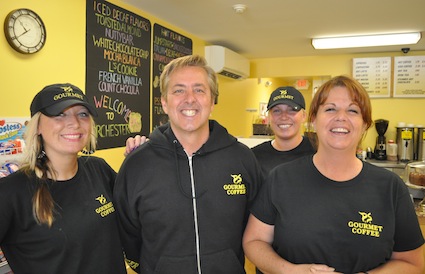 PS Gourmet Coffee: Owner Jim Fallon, second from left, is shown with employees Katelyn Keeley, left, Lauren Karski and Adams Corner store manager Debbie Shaughnessy, far right. Photo by Bill Forry
It took just over a year for the owner of P.S. Gourmet, the popular South Boston coffee shop, to get his second location outfitted and ready for business in Adams Corner.
There's still a lot to be said for being fashionably late.
The café opened just before Dot Day and in a matter of days the store's signature yellow coffee cups have become the latest craze in the neighborhood, especially among the under-30 set. It's a demographic that store owner Jim Fallon, who has run the flagship location in Southie since the mid-1980s, is banking on.
Fallon had long considered branching out from his original Perkins Square (thus the P.S.) location. He eyed a spot in the Morrissey Boulevard strip mall that replaced the old Burger King. But when friend and customer Kenny Blasi told Fallon that he had a space available next to his popular restaurant, Fallon's interest was piqued.
"Adams Corner is like the twin to our South Boston store," Fallon says of his two locations. "The foot traffic is tremendous here."
Fallon should know. The 57 year-old grew up on King Street and went to St. Mark's Grammar School. His early memories of Adams Village include trips to an old movie theatre that's long gone, replaced by the apartment complex across the street from his new store.
Nowadays, the village bustles with several well-established eateries, including Blasi's, Gerard's, Greenhills, Sonny's and the landmark Eire Pub. But Fallon and others see the new cafe as filling a void and complementing the others, not as a threat to anyone else's base.
"We're always pleased to see a new store open in the village, especially when it's attracting a new market and fills a vacant storefront," said Mary Kelly, president of the Adams Village Business Association.
Judging from the near non-stop queue of pre-teens, teens and 20-somethings in front of the store's counter on Monday morning, Fallon seems to have made a good choice. He estimates that a full 80 percent of his customers buy iced coffee, a specialty of P.S. Gourmet that has its origins— like many innovations— from a regular customer.
"It was Jim Grealish, one of our regulars, who really got it rolling," Fallon said this week. "We usually just sold iced coffees in the summer months. But he said, 'Do you think you could keep a gallon behind the counter for me.' It just took off from there."
Employees and managers over the years have added to the store's large array of flavor mixtures, with everything from Nutty Bar to the big seller, P.S. Special on offer.
"The difference is we fresh brew all of our coffees," says Fallon, who shows off a brand new cooler in back where buckets of flavored iced coffee are stored through the day. By getting the coffee off the burners quickly and into storage containers, Fallon and his team avoid the smoky, burnt taste that some of the bigger chains sometimes serve up.
"We're so busy that nothing really sits there that long anyway," says Fallon, who says his favorite is still a bold Italian mix, hot and black. The vast majority of the P.S. Gourmet customers are young women, he notes, and a non-scientific count of the customer flow this week seems to support it. Fallon says that the iced coffee trade nationally is dominated by women aged 17-32, who fuel his customer base as well.
The store , which is also a hit with grammar school-aged customers who seem to find the store's classic lime rickey drinks irresistible, also sells egg sandwiches, bagels and a small selection of other breakfast foods. It is open from 6 a.m.-10 p.m. Monday-Saturday and 6 a.m.-8p.m. on Sundays.