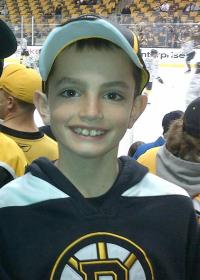 (Updated, 1 p.m.)- A beloved Dorchester family watching the Boston Marathon near the finish line in Copley Square was caught in one of two bomb blasts that exploded on Monday afternoon. Martin Richard, 8, was killed in the explosion, while his sister Jane, 7, suffered a grievous injury to her leg. Their mom, Denise, was also badly hurt in the blast and underwent emergency surgery yesterday to save her life.
In a statement issued through a spokesman today, Martin's father Bill Richard said, "My dear son Martin has died from injuries sustained in the attack on Boston. My wife and daughter are both recovering from serious injuries.
"We thank our family and friends, those we know and those we have never met, for their thoughts and prayers. I ask that you continue to pray for my family as we remember Martin. We also ask for your patience and for privacy as we work to simultaneously grieve and recover. Thank you."
Word of the injuries spread quickly through the Richard family's tight-knit Ashmont-Adams neighborhood, where both parents are known and respected as civic leaders. Bill Richard served as board chairman of the St. Mark's Area Main Street group and has played a key role in the transformation of Peabody Square over the last decade. The family is deeply involved in all facets of life in Dorchester, from little league baseball and soccer to their church, St. Ann's parish in Neponset.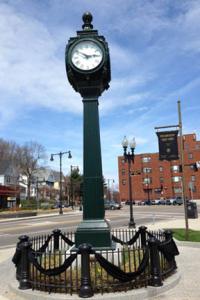 Peabody Square tribute to Richard family: Neighbors stopped the clock to reflect the time that a bomb killed 8 year-old Martin Richard and wounded his mother and sister in Boston on Monday, April 15. Photo courtesy Friends of Peabody Square
Friends and neighbors flocked to Tavolo restaurant to watch news coverage and swap information late into the night on Monday.
Jim Keefe, a close friend of the Richards who lives in the Ashmont area, was among them. Keefe's own sons, Nick and James, had run the marathon earlier in the day. Nick, 28, crossed the finish line on Boylston Street just seconds before the first bomb detonated less than a block away.
"I heard this earth-shattering boom. I turned and saw this plume and then I heard a second boom, just as loud and earth-shattering," said James Keefe. "I almost blacked out from fear."
Neither of the Keefe brothers were injured and they reunited with their parents a few blocks from the scene of the crime.
Paul Flaherty of Dorchester told the Reporter that his wife Aggie and his daughter Ali, 13, were in front of the Marathon Sports store when the first explosion happened. Both narrowly avoided serious injury. Aggie was cut, possibly by flying glass and needed 8 stitches at St. Elizabeth's Hospital. They were home safe by nightfall, but "saw some gruesome" things.
"They were right in the thick of it," Flaherty said.