By Jackie Gentile, Special to the Reporter
January 17, 2013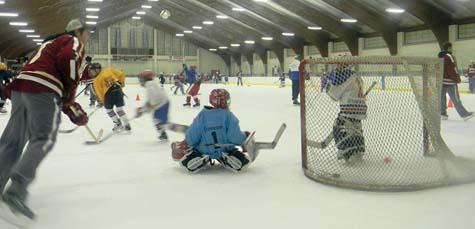 "It's organized chaos!" a jovial Kevin Hayes, Sr., exclaimed last Wednesday evening as scores of Mites, Mighty Mites, and Squirts, some on the ice and some waiting ever so patiently for a line change, bubbled over with excitement. This was no ordinary practice session – the Boston College Eagles were in town, including hometown favorite Kevin Hayes, a junior forward on the defending national championship team.
The hockey team's second trek in two years to the Devine Rink in Neponset was as exciting for the Eagles players as it was for the kids. "I know some of the guys like to have a break [from college competition], but a bunch of guys were saying they've been looking forward to this all week, coming out here," said the younger Hayes. "It's especially fun this year and I know the guys want to stay on the ice as long as we can."
Kevin's family and first-class hockey are an excellent fit: His older brother Jimmy, a onetime standout forward at the Heights, now plays right wing for the Chicago Blackhawk who, in the 2010 NHL Entry Draft, selected Kevin in the first round, 24th overall.
As for his plans next year, Hayes said, "Right now, I'm not even thinking about it." His focus – and that of his teammates – is solely on their now 13-4-1 overall record (10-3-1 in Hockey East competition) and second-place standing in national polls. After last Wednesday's stop in Dorchester, they came up big against UNH on Friday, 5-2, but gave it back to the Wildcats the next night in a 2-1 loss.
The Neponset event was initiated last year when Mr. Hayes approached BC head coach Jerry York and asked him to bring his team to the rink to practice, saying, "it's a hotbed of hockey." Without a question, York said, "Sure, I'd love to do that," reports Hayes. "He's an unbelievable guy."
York couldn't make it to the rink this time because of recent eye surgery that has kept him away from the BC bench for several games, but the record shows that spent much of his time on the ice with kids last year.
As for this year, two-year Mite A veteran Ronan Ridge shared that the night was "really fun." A participant in the clinic, Ridge relished the opportunity to skate with and learn from some of BC's finest. "I think I skated with Kevin Hayes and four other people," he said.
Jay Broderick, the president of DYH, attested to the character of this Eagles crew, whom he calls "real gentlemen," adding that "when we play in the Mayor's Cup [at BC], every time we're over there, they make a point of coming over there and saying hello to the kids and even spending 2-3 minutes with them."
"For these kids,"said Broderick, "I mean, Sidney Crosby could be out there – they wouldn't be any more excited than being out there to see those BC kids."
As if their schedule wasn't busy enough, the BC players hosted a clinic, took pictures on the ice, had a meet-and-greet with the young players off the ice, and signed autographs.
Last year, names and teams were picked out of a hat. This year, the program went with the regular practice schedule. "The toughest part is telling some of the kids they can't go out on the ice and that's just logistics," Broderick said.
The Eagles didn't disappoint those who didn't get ice time, however. After the hour-long clinic, they stayed for pictures and autographs, while pizza and specially made T-shirts were available. Smiles, iced-up blades, and admiring eyes abounded.
"You just want to do this because my boys played in Dorchester Youth Hockey so there's hope for these kids," Mr. Hayes said. "They see someone here."
State Rep. Marty Walsh — a self-described "hockey nut"—was on hand for the event.
"DYH has produced a lot of NHL players, but more importantly, it has produced a lot of great kids that go on to do a lot of great things in life, not just playing hockey, but just being good people," Walsh said.