By Eoin Cannon, Special to the Reporter
April 4, 2013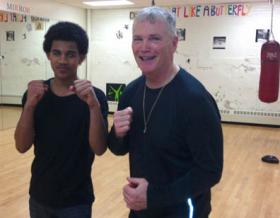 St. Peter's Boxing duo: Boxing coach and former DEA agent Paul Doyle, right, with 15 year-old Jose Pires. Photo by Eoin Cannon After almost disappearing from the youth sports landscape, boxing has made something of a comeback in Dorchester. More gyms are opening their doors to young people, whether they are looking for serious competition or just the skills boxing teaches: discipline, composure, self-defense.
In places where the youth need those skills the most, though, instead of commercial gyms it sometimes takes the old, familiar networks of priests, police, youth workers, and ex-fighters and the commitment they make to passing those values on.
Paul Doyle knows both the before and the after phases of this phenomenon.
He spent his childhood in Mission Hill, and the training he did in local gyms eventually led him to a New England amateur heavyweight title in 1967. A few lifetimes later – a year in the Korean DMZ, a career as a DEA agent with a decade undercover, a book authored in retirement – Doyle now runs a boxing program in the Catholic Charities Teen Center at St. Peter's Church on Bowdoin Street.
Doyle got involved when the same men who had hired him at the Bureau of Narcotics and Dangerous Drugs in 1971 heard that their friend, Father Richard Conway of St. Peter's, was looking for a boxing coach. Conway had got wind of some interest in boxing among the youths at the teen center and, after word got around he wanted to start a program, Mark Wahlberg stepped up to donate the initial equipment. Officers of the Boston Police Department's Safe Street Team started doing some coaching. Then Doyle's friends asked him to help out.
It was going to be a long commute from his home in the suburbs, but when he met Conway, and when he got a taste of the vibrancy in the big old building on Bowdoin Street, he committed. Two years later, the boxing program is a hit at the teen center and Doyle is the lead coach.
It's the humblest of gyms and both Conway and Doyle would like to find the resources to make it something more. Taking over a tiny dance studio at one end of the building's basement for two nights a week, it features three heavy bags, a few cones for footwork drills, and a single cabinet of gloves, headgear, and pads. Black-and-white photographs of Muhammad Ali in action are taped to the walls, along with a large hand-cut paper letters spelling "Float like a butterfly." Middle school kids train from 5:30-6:30 p.m., and high schoolers from 7-8. There isn't room for more than a dozen or so at a time.
Both the coaches and the kids say the program provides fitness, discipline, and confidence. Some of the kids come in street clothes, straight from the after-school program. It's not a gym where an out-of-shape or uncoordinated kid will feel unwelcome. Doyle and his friends take all comers, in all shapes and sizes, in workout clothes or in drooping jeans.
St. Peter's Boxing duo: Alvaro Monteiro, 16, former professional boxer Joey DeGrandis, Jucilino Barros, 17, and Stephen Doran, Boston Police Department Safe Street Team. Photo by Eoin Cannon
Conway believes one of the most important effects of the program comes from the interactions between teens and the police officers.
"The kids get a different attitude toward the police when they're all in there working together," he said, adding that some of them have for the first time expressed interest in joining the force when they grow up.
Safe Street officers Steve Doran and Danny Tracy are regular coaches. Boston Police Deputy Superintendent Nora Baston makes frequent check-ins. She calls it the epitome of what the Safe Street units strive to achieve: "building real strong relationships."
After the original stock of gloves was stolen, the cops donated a metal storage cabinet to lock up the new ones. Baston herself provided a pair of hot pink gloves that are the pride of the few girls who frequent the program. On a recent night, they were worn by Dulcelina Tavares, a small but formidable senior at Madison Park High School who has ambitions of becoming a pediatrician.
Beyond the priest, the DEA man, the cops, and the Catholic Charities youth workers, there is a small cadre of volunteer coaches, almost as many as there are kids to teach, and from as many different backgrounds. Jonathan Loporto works for a video game developer but is training to be a Boston Public School teacher. Amateur boxer Kevin O'Leary is a student of criminal justice at Northeastern who gets research tips from Doyle and his ex-DEA friends. Arthur Ciriello is a housepainter from Westwood and a friend of Doyle's. Joey Degrandis is a former world title challenger in two weight classes, originally from Southie.
Taken together, it's an extraordinary community of interest around a seemingly inconsequential few hours of instruction each week. What do all these different people have at stake in whether a kid can learn to care enough to throw a correct punch, or work through the pain of a hard round on the heavy bag?
The answer begins to take shape on a recent night when Doyle, the former amateur titleholder, and Degrandis, a ranked professional a decade ago, get locked in as they talk two of their most promising students through some controlled sparring. The kids pick up on the years of experience and the urgent care in their coaches' voices, and they move from nervous laughter to intent focus. Ildo Pires and Jucilino Barros, both 17, get their feet right and start slipping each other's jabs. Degrandis leads Pires through the double-jab. Later, Pires quietly coaches a less experienced young fighter through similar combinations at the heavy bag.
"The kids who come here want someone to teach them the right way, not just in sports but in life," Doyle says afterwards.
These learning moments are hard-earned here, but there's only so far they can go. The facilities are limited. Some of the kids are good enough to spar live, but they need a ring, even if just a small portable one. Doyle and the other coaches want to do right by the kids who have stuck around. Conway would like to expand the program to include older youths and young adults who are not involved in the teen center.
The community policing brass and the youth workers say the number one thing at-risk kids need is the reliable presence of the same responsible adults. That's what Doyle has been for a lot of kids, in a lot of ways. Degrandis, for example, has known Doyle since he was a kid in the D Street projects. He remembers the DEA agent, a family friend, being a rare beacon of honesty in a chaotic world.
"I looked up to him like an idol," Degrandis remembers. "He was someone in my eyes who was always straight by the book," he adds, shaking his head at the memory of what a rare gem that quality was in his childhood. "You could count on that."
Such adults help kids recognize the resilience they have developed to survive adversity and channel it toward higher ambitions. Especially in boxing, the kids who can benefit from it do so because it gives purpose and focus to the grit they already have.
Doyle's former DEA partner Chris Egan marvels at the long days of buses, classes, and after-school programs the kids navigate, often without the benefit of square meals or clean streets. "The kids who make it out of here will be motivated leaders," he says.
Take Dulcelina Tavares, of the pink gloves. She emigrated from Cape Verde when she was 12, along with her mother and seven siblings. Now turning 18, she is in the JROTC, she's vice president of the youth counsel at St. Peter's, she's interning in a nursing program at Brigham & Women's hospital, and she visits retirement homes with her youth group at St. Patrick's.
So why does she make time for boxing, even on a night when she has an indoor soccer game upstairs?
She patted her upper arm knowingly and made a fist. "It makes you strong," she explains. "Ready for anything."
It's a feeling Doyle is familiar with, and one he would like to continue to pass on.