By Reporter Staff
January 18, 2013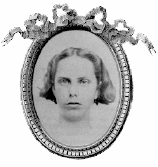 The Dorchester Historical Society has just re-published the journal of a young woman's account of life here in the 1870s. The society will mark the book's release a week from Sunday, Jan. 27 at 2 p.m., at the Carpenters Center, 750 Dorchester Ave. The free celebration will be held in conjunction with an illustrated talk by Andrew Saxe titled "The Ascent and Revival of the Railroad Suburb," on the history and architecture of the houses of 18th and 19th century Dorchester, a town that Alice Stone Blackwell would have known well.
Blackwell moved to Dorchester with her parents, the social reformers Lucy Stone and Henry Blackwell, just at the time Dorchester became part of the city of Boston (1870). At the age of fourteen, Alice began a diary where, over a two-year period, she recorded her everyday life and her family's activities in a perceptive, frank, and lively voice.
Through Alice's diary we see the beginnings of Dorchester's transition from county town to suburb," said Earl Taylor, the president of the Dorchester Historical Society. "Although the railroad had come to Dorchester in the 1840s, its influence on development was only realized after annexation, and the ease of commuting is evident from Alice's trips from her Neponset home into the city to visit her mother's publishing office and to exchange her library books. In this, Alice may have been one of a new generation of young women who would feel comfortable traveling independently, both physically and in the realms of thought."
The book "Growing Up in Boston's Gilded Age: The Journal of Alice Stone Blackwell, 1872-1874" — was edited by Marlene Deahl Merrill and originally published by the Yale University Press in 1990. The Dorchester Historical Society recently acquired the publication rights and is republishing the book through the Print-on-Demand service at the Harvard Book Store in Cambridge.
Copies of the book, priced at $20, will be available at the Jan. 27 event, in the Dorchester Historical Society's gift shop, and at the Harvard Book Store.