By Tayla Holman, Reporter Correspondent
January 3, 2013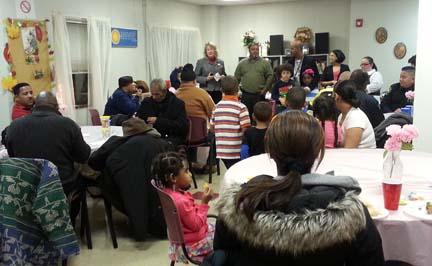 Residents from one of Bowdoin-Geneva's most well-known addresses— Hendry Street— gathered last Friday evening for a holiday party that was billed as a celebration, in part, to mark what neighbors say have been marked improvements in their quality of life since a troubled property was condemned last year and cleared of criminal elements.
The party at the Pasciucco House on Bowdoin Street was organized in part by Dorchester Bay Economic Development Corporation, which owns the property at 31 Hendry St. and has controlled and sold several others on the street in recent years. The event drew about 60 people, many of them residents from Hendry Street or nearby. Most said they had gathered to celebrate how far they had come and to look forward to what still needed to be done.
A recent five-part Boston Globe series titled "68 Blocks" that focused on the Bowdoin-Geneva section zeroed in on Hendry Street and documented some of the problems on the densely packed, three-decker-lined side street.  On Friday, there was talk about the Globe's coverage, with some bristling at what they felt was an incomplete snapshot of the street's travails and the progress made since the reporting team decamped.
In particular, residents say that one property in particular— No. 37, a three-decker that had been a hotbed of criminal activity— has been cleared of problem tenants, an outcome that had not unfolded in the frame of the Globe stories. Another trouble house, No. 18, has also been sold in the interim, according to residents.
[The Globe team did extensive reporting on a coordinated city effort to inspect and dislodge troubled tenants from 37 Hendry Street over the summer. Few residents felt comfortable talking to the newspaper then, according to Dorchester Bay EDC spokesperson, because the "dudes" who were living at 37 Hendry posed a threat to them at the time.]
Before the troubled properties were addressed, residents cancelled their annual block party last summer because they didn't feel safe. The year before, the event had drawn about 200 people.
Several residents at the Friday said that neutralizing the threats posed by residents in those buildings has made a huge difference in their lives.
Denise de la Cruz, who has lived on Coleman Street for four years, said the immediate neighborhood has definitely changed in recent months. "It's better than it was when I first moved here," she said. "It was scary. I didn't know what I was moving into. But now, there are no more shootings and no more crazy people."
De la Cruz said she now feels safe raising her children in the neighborhood. Between the city, Dorchester Bay EDC, and the police department, everybody knows each other by name and looks out for each other, she said. Everybody is "really sweet and really nice" and getting along.
Henrique Fernandes, a homeowner and resident of Hendry Street, encouraged people to not just read the negative news about the Bowdoin-Geneva neighborhood, but to read about the good things that were being done there as well. He said since 37 Hendry was "shut down," there hasn't been any crime. "People should really look at this neighborhood. House values are up. People used to run away from here, now they run toward it."
Fernandes said he was proud to live in this neighborhood. With an established crime watch and neighbors who know each other, residents have made an active effort to reclaim their community, he said. 
"If you move into a place that's bad, you can accept it or you can be part of the change," he said." 
 
Manuel Nunez, who lives on Coleman Street, said he feels the neighborhood is safe now. Other than sometimes not being able to park because people who don't live on the street come there on the weekends, he said he has no problems with crime or any of the youth in the community.
Shirley Montanez, who lives in the same building as de la Cruz, agreed that the neighborhood has seen a positive turnaround. She also said that getting involved in meetings made her feel more comfortable, and less afraid to raise her two children – ages 4 and 11 – in the neighborhood.
Neighbors have also started an e-mail chain to let others know when there is suspicious activity going on in the community.
Beyond reporting crimes, residents praised each other for looking after neighbors in need. When a resident suffered a stroke just before the holidays, Montanez and others were able to get donations from the police departments for coats and toys for her children.
In addition, the police department, along with St. Peter's parish, helped gather Christmas presents to give to about 20 neighborhood children. When two older girls were somehow overlooked for presents, Montanez told them, "I will personally go shopping for your gifts this weekend."
Hermitao "Beto" Rosa, a community organizer with the Dorchester Bay Economic Development Corporation (EDC), said that when the community held its first meeting in 2010, only 15 people attended. He said it took an intense outreach to get people to join the crime watch, partly because they were afraid of retaliation. "If you talk, you're a victim," he said. "If you don't talk, you're still a victim."
Rosa also said that it was obvious that there was something going on at 37 Hendry Street. There were always people coming and going, and residents kept asking for an increased patrol around the area. They were told that there was a federal investigation taking place, but were skeptical if that was really true. After one meeting, a 24-hour patrol was set up, and the house was eventually condemned.
Residents had also managed to get six-foot fences built around three or four houses that had large backyards into which people would often jump to get away from police. They were also able to get Hendry Street turned into a one-way and new signs put in place.
"Traffic signage was horrible," Rosa said. "People were ignoring the signs."
At the end of the evening on Friday, before raffling off $25 gift cards to Stop & Shop, Rosa said he wanted residents to tell their own stories and not focus on what had previously been said about their neighborhood. "If you go around the whole Boston area, I think that what is happening here isn't happening everywhere," he said. "I want you to be proud of yourselves and give yourselves a hand."
Jeanne DuBois, executive director of Dorchester Bay Economic Development Corporation, seconded Rosa's congratulations:  "What changes neighborhoods isn't individuals, it's groups of people," she said. "And this really is a beautiful neighborhood."