UPDATED (6:05 p.m.)— Commissioner Ed Davis just clarified his earlier statement regarding the JFK Library fire this afternoon, saying that reports that it was connected to the marathon explosions "could be premature" and "may not be linked directly" to the Copley Square incidents.
Davis added that the JFK incident was either a fire or "an incendiary device."
There is conflicting information at this hour about whether or not a fire at the JFK Library this afternoon is related to the deadly explosions along the marathon route on Boylston Street at the same hour. The director of the John F. Kennedy Presidential Library and Museum told the Reporter on the scene that the 3 p.m. fire inside the building's mechanical room was not caused by "a device."
Tom Putnam, the director of the JFK Library, said that the incident was confined to a mechanical room near the archive section of the library.
Paul Yazbeck, a JFK Library employee, said he saw a small fire and heard what he defined as "definitely an explosion."
Other people, who were there to tour the library, said they had not heard an explosion.
In a press conference around 4:30 p.m., Commissioner Ed Davis said police are not certain that the incident is related to the Copley Square explosions, but they are treating it as if it is related. Later, a Tweet from the BPD spokesperson seemed to clarify that: "Update JFK incident appears to be fire related #tweetfromthebeat via @CherylFiandaca."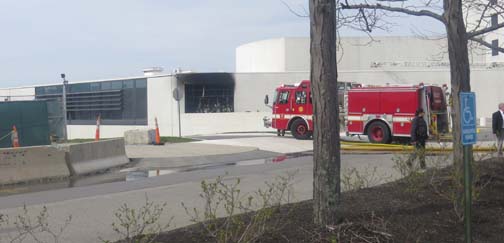 Another view of the damage to the JFK Library. Photo by Bill Forry
The Twitter account for the National Archives, which owns the JFK Library, seemed to reinforce the notion that the fire was not connected to the downtown attacks: "Fire at @JFKLibrary today. All people are safe. Fire investigation underway. No info on damage yet. Any tie-in is speculation."
At a press conference with Gov. Deval Patrick, Davis was asked about any victims at the JFK Library incident.
"None that we know of," he said.