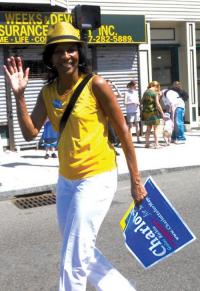 Charlotte Golar Richie: Meetinghouse Hill resident certified for mayoral ballot on May 28. Photo by Eric EstevesThe mayoral ballot gained its eighth and ninth candidates this week, with the city Election Department saying that former state Rep. Charlotte Golar Richie and Codman Square Health Center co-founder Bill Walczak had gathered enough verified signatures from voters.
District 4 Councillor Charles Yancey has also made the ballot for mayor and for his district seat; he is running for both offices. Yancey has repeatedly defended running for dual positions to reporters, pointing to Republican Congressman Paul Ryan of Wisconsin running for both vice president and reelection to Congress last year.
Two potential candidates so far have enough signatures to challenge Yancey for his District 4 seat, which includes Dorchester and Mattapan: Divo Monteiro and Terrance Williams, both of Dorchester.
Walczak, Richie, and Yancey join six others on the mayoral ballot: City Councillors At-Large Felix Arroyo and John Connolly, Suffolk District Attorney Dan Conley, community activist John Barros, District 5 Councillor Rob Consalvo, and state Rep. Marty Walsh.
Walczak's campaign is planning a kick-off and an office opening at the Pho Hoa restaurant on Dorchester Avenue on June 9 at 4 p.m. Arroyo's team is holding its own kick-off later this month, on June 15 in the South End. His celebration starts at 3 p.m. at Villa Victoria on 100 West Dedham St.
Charlestown's Jack Kelly III and former City Councillor Gareth Saunders are the latest candidates to make the ballot for an at-large City Council seat, bringing the number of candidates with verified nomination signatures to eleven. They include Frank Addivinola of the West End, former City Councillor At-Large Michael Flaherty, Dorchester's Annissa Essaibi George, West Roxbury's Martin Keogh, City Councillors At-Large Stephen Murphy and Ayanna Pressley, the South End's Jeffrey Ross, West Roxbury's Seamus Whelan, Jamaica Plain's Douglas Wohn, and former Elizabeth Warren campaign aide Michelle Wu.
Election Department officials were still attempting to verify the signatures of other candidates on Wednesday. Mayoral candidates need 3,000 signatures from registered voters, while at-large candidates need 1,500. The number for district candidate varies, based on the turnout during the last election cycle.