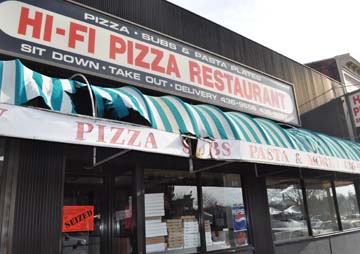 Hi-Fi Pizza seized, shut down by state tax officials on Tuesday, will re-open today. Photo by Bill Forry
A spokesperson for the state's Dept. of Revenue says that a seizure order at Hi-Fi Pizza — imposed after a lunchtime raid on Tuesday— has been released after the owner "successfully worked out a payment agreement. The pizzeria's owner, Mike Hatzistefanou, confirmed the news to the Reporter on Friday and said that the shop should be open for business for tonight's dinner rush.
"We're hoping to re-open by 5 o'clock," said Hatzistefanou. "We're in here now clearing out the old food and getting new food ready."
The popular Fields Corner eatery was shut down on Tuesday afternoon by state revenue officials and police, who entered the 1508 Dot Ave. storefront just after 12 p.m. on Tuesday. Department of Revenue official say that the action took place as a "last resort" after the pizza shop's owners failed to pay a $26,559.89 tax bill that dates back to November 2005.
A large orange sign plastered with the words "SEIZED" was posted on the pizzeria's front door after agents changed the locks.
The sign read in part: "The business property of Axos Enterprises, Inc. d/b/a Hi Fi Pizza has been seized for nonpayment of taxes, and is now in possession of the Commonwealth of Massachusetts."
Hi-Fi has been a popular dinner and late night restaurant in the Fields Corner business district for decades.
Hatzistefanou said Friday that the settlement with the state included a "big sum up-front" with an agreement to pay a monthly bill for the back taxes owed.
Ann Dufresne, a spokesperson for the state's Department of Revenue, said earlier this week that the seizure was a "standard procedure" that came after many attempts" to work with the taxpayer and work out a payment plan." Dufresne said that the back taxes include levies for meals, withholding and corporate taxes to the state.
"Often times a seizure is released within days to weeks because the action has prompted the taxpayer to work out a payment agreement," Dufresne said. "It can be re-opened instantaneously," she said, if payment is made.