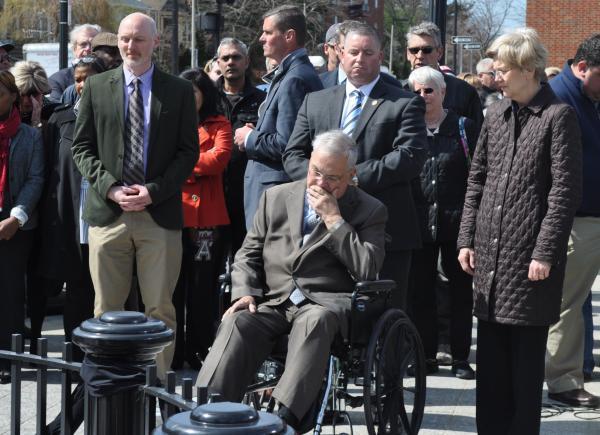 More than 100 people— including Mayor Tom Menino — marked the one-week anniversary of the Boston Marathon bomb attack in a silent, respectful ceremony in Dorchester's Peabody Square this afternoon. A group of neighbors— many of them close friends of the Richard family — surrounded the historic clock that has become the focal point of mourning in this close-knit neighborhood.
Jeff Gonyeau re-sets the clock. Photo by Bill ForryJeff Gonyeau, who stopped the clock last Tuesday as a gesture of grief and respect for the family, re-set the pendulum at 2:50 to get the gears and hands moving again. There were no speeches or remarks from anyone, except Gonyeau who briefly explained what he would do to re-set the clock, now surrounded by scores of momentoes, homemade signs, newspaper clips and sympathy cards addressed to the family of 8 year-old Martin Richard, one of three people killed in the blasts along Boylston Street. His mom, Denise, and little sister Jane, 7, were among the 180 people injured in the terror attack.
After the nationally-observed moment of silence, the church bells began to toll from All Saints Church, just steps away on Ashmont Street. The bells were rung by a person— not a recording— and adhered to a medieval rite for announcing the death of a child using church bells. The bells rang once to announce a death, three more times to denote the passing of a child— and then eight more times for each year of young Martin's life, ended abruptly and violently a week ago this afternoon.