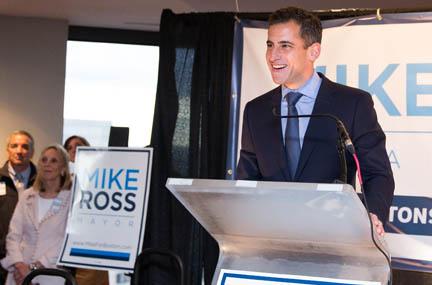 As the Volvo sped westbound on Storrow Drive last Thursday night, Gustavo Quiroga, in the passenger seat, sketched out what had happened over the previous 36 hours.
Quiroga and the driver, City Councillor Michael Ross, along with campaign manager Cayce McCabe had been up since roughly 7:30 a.m. Wednesday. Twelve hours later, Ross and friends were at the State Room in downtown Boston, where he kicked off his mayoral campaign in front of 350 people, before heading to Darryl's Corner Bar in Roxbury.
Then, Quiroga noted, the trio packed themselves into the back of a squad car in Mattapan for a ride-along with Boston Police in the early morning hours of Thursday before eventually going back to Roxbury at 4:30 a.m. to chat "economic development" at City Fresh Foods. Then they were off to Dorchester for "five-mile hill sprints" with a neighborhood running group, according to Quiroga, who also noted that "Cayce was in the car." Sitting in the backseat, McCabe looked up from his phone. "Redact that." Ross broke in: "Un-redacted. He was in the car."
Quiroga continued his travelogue: They moved on to Mission Hill where they provided coffee and muffins to firefighters; in Dewey Square, Ross climbed into a Clover food truck and served lunch for 40 minutes; he then talked medical jobs in the Longwood Medical area, in a classroom that bears his name, before sitting down with entrepreneurs in South Boston's so-called "Innovation District."
The second-to-last stop on the tour was a two-level home on Chestnut Street on Beacon Hill where books about Le Corbusier and architecture were spread about on chairs and various small tables. Ross breezed in at 5:45 p.m. to greet the 15 high-rollers in attendance. One couple had already maxed out to his campaign with $500 donation. The host, Deb Hanley, had worked as a development consultant when Kevin White held the top job in City Hall. Her husband, Frank McGuire, is an architect.
Ross took a minute to explain his campaign strategy – reaching outside the city's traditional voting blocs – as the small group stood underneath a large painting of New York's Avenue B.
He then made his pitch: Elected to the council in 1999 and with two terms as City Council president under his belt, he was part of a group of city councillors who had brokered a compromise arbitration agreement between the administration and the firefighters' union. He said he wants to look at levying property taxes on dormitories as a way to bring in revenue.
Pointing to his ongoing multi-neighborhood tour, Ross said, "I wanted it to be a statement that I can go the distance, I can go 25 hours. I can travel across the city."
After he mentioned the five-mile run through Dorchester, one of the attendees interrupted with a concerned expression on her face: "Do you want a cup of coffee?" she asked. It was a relevant question: By the end of the run, the coffee cup count stood at three and a half for Ross, four for Quiroga, and eight for McCabe, up from the four to six he would have on a daily basis when he worked on Linda Dorcena Forry's state Senate campaign earlier this year.
Ross waved her off. "I've already had a couple," he said.
***
Thursday, 7:30 p.m: The last stop was the annual fundraiser for Goodwill, which was being held under a big white tent in the parking lot at its headquarters on Harrison Avenue. "I got my second wind," Ross said, turning down the car radio, which was playing Public Enemy. The massive crane over Dudley Square loomed several blocks away.
"I'm tired but it's not that bad," he said, before launching into another explanation of his trip around the city. Each stop, he said, was meant to highlight issues that he has worked on in his tenure as the district councillor for Back Bay, Beacon Hill, Fenway, Mission Hill, and parts of the West End and Allston, as well as beyond those boundaries.
"I will leave no neighborhood behind," he said.