By Lauren Dezenski, Reporter Staff
November 11, 2014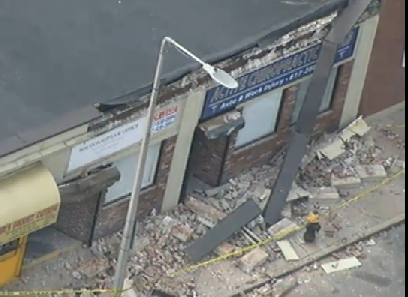 Bricks from a Washington Street chiropractic building's exterior facade fell to the ground just after noon on Tuesday, Boston Fire spokesman Steve MacDonald told the Reporter.
No one was injured, MacDonald said. The building at 497 Washington St. is occupied by Active Chiropractic Rehab. The building's strip mall-style brick exterior is visible from Google Maps Street View. It is located directly across the street from Dorchester District Court.
Initial reports called the incident a partial building collapse, however MacDonald said that is not the case.
"It was just the brick letting go on the exterior," he said. It was not immediately clear what caused the bricks to separate from the building.
Crews from the fire department and inspectional services were on scene just before 1 p.m. to determine whether the building is structurally sound. The building was evacuated after the bricks fell as a safety precaution, MacDonald said.