By Gintautas Dumcius and Mike Deehan
March 4, 2014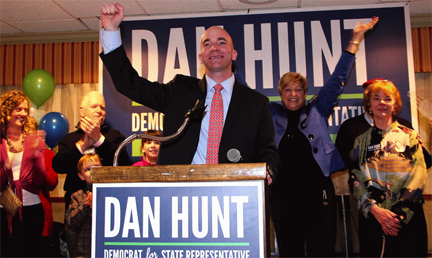 This post was updated at 3:06 p.m. on Wednesday with the latest version of the story.
Dan Hunt will be the next representative for the 13th Suffolk House District. The former State House aide and Department of Conservation and Recreation staff member won a decisive victory in Tuesday's special primary, besting four other Democrats in an election that drew a sparse turnout to the polls.
With no Republicans on the ballot on Tuesday, a Hunt win in the April 1 general election is a foregone conclusion.
The 33-year-old Hunt credited his campaign team with having a heavy focus on door-knocking and voter contact. "We bugged the crap out of people," he quipped at his victory party in the Phillips Old Colony House on Morrissey Boulevard.
According to unofficial tallies gathered from campaign sources, Hunt chalked up 2,337 votes — or just over 50 percent of the 4,594 votes cast across the district's 20 precincts. Civic activist John O'Toole was next with 1,082. Labor attorney Liam Curran finished third with 890 votes. PJ McCann, a Boston Public Health Commission lawyer, and Gene Gorman, a former reporter, finished fourth and fifth, respectively.
The turnout percent of registered voters in Boston was about 19 percent.
Hunt topped the ballot in all but three precincts. Liam Curran won the two precincts at the Catherine 'Kit' Clark Apartments in his Ward 13 home base and he won a single precinct in Ward 7, the Bellflower Apartments in the Polish Triangle.
"I just want to wish [my fellow candidates] the best," said Hunt after his victory. "They all ran a great campaign."
His victory was another sign of the generational shift under way in Boston politics. Mayor Marty Walsh had held the House seat for 16 years before winning the top job in City Hall last November, succeeding Thomas Menino, who retired after as mayor after 20 years on the job.
"It was always the same names," said Bill Walczak, a former mayoral candidate who supported Hunt, as he left his polling location in Savin Hill.
The victory is a sweet one for Hunt and his family. His father, James Hunt Jr., made an unsuccessful run for the seat in 1981, and his brother, James Hunt III, ran in 1997 and came in second behind Walsh. Their experiences helped the latest Hunt candidate. His father is well known in the neighborhood and in Boston as head of the Massachusetts League of Community Health Centers, and his brother, a former aide to Mayor Thomas Menino, helped with fundraising. An early start also helped, with Hunt jumping into the race soon after Walsh declared victory in the mayoral contest.
"Thirty-three years ago, I ran against the father," former state Rep. Jim Brett said at Hunt's victory party, pointing to Jim Hunt Jr., who was chatting with supporters of his son as they waited for the candidate to arrive. "I think Dan would admit a lot of those votes came from the reputation of the family. But he worked hard."
Brett said he expected Hunt to "hit the ground running" at the State House. "If he learns the rules of the House, he can be very, very effective," said Brett, who left the seat in 1996 to take a job with the business-backed New England Council.
Hunt served as the chief of staff to the House side of the Economic Development Committee when Dan Bosley, a North Adams Democrat, co-chaired the committee. "You have to know everything that goes on, and he's a quick study," Bosley said on Tuesday night.
Hunt will have to run again in the fall if he wants to keep his seat, and it remained unclear on Tuesday night if any of the men who finished behind him would seek a rematch later this year.
At one point or another during the low-turnout day, all of the candidates made a stop at the Cristo Rey High School, the polling location for Ward 13, Precinct 10, a crucial area in the district. Walsh, who lives around the corner from the school, briefly swung by to vote just after 7 a.m., before he climbed back into his SUV and headed off to work.
Just before 8 a.m., Gorman joined Hunt and McCann as they stood on the school's sidewalk, buttonholing the few voters who headed inside. A group of three campaign workers backing Curran huddled closely and eyed a voter list. "This is Ground Zero," Gorman said. "It's been such a quick two months," he added.
McCann, who occasionally hopped into a parking spot to capture some warm sunlight, remained optimistic about his chances, as did the others. "I'm just thrilled that it's here," he said.
Walsh arrived at the Hunt victory party late Tuesday night, after stopping by the victory celebration of a House candidate in Charlestown. The mayor stayed publicly neutral in the race – while his mother and brother backed Curran – and declined to tell the Reporter on Tuesday night who got his vote earlier in the day. But standing next to Hunt, Walsh told the crowd, "I'm proud to call him my state representative."
The district includes Savin Hill, Clam Point, the Neponset area, Pope's Hill, Port Norfolk, and a precinct in the northern part of Quincy, just over the Neponset River.
At his election night party at Venezia in Port Norfolk, O'Toole thanked his family, friends, and supporters, including labor organizers who aided him in the campaign. "Obviously Dan had an excellent campaign," O'Toole said. "He did fantastic numbers and I give him credit for running a very good campaign. The thing I like best about this race was that [it was] a very civil, good discourse and I'm very proud of all the people. I wish I could have delivered it."
O'Toole noted that all five candidates were together in Savin Hill on the day of the election and "it was a really good atmosphere," adding, "he should be proud. Dorchester should be proud."
When asked how Hunt's early entry into the race and his fundraising prowess affected the campaign, O'Toole said the quick start was an obvious benefit to Hunt. "Let's face it: That's the reality of politics, part of the reality of politics is both the money and timing. First up, best dressed, I guess, right?"
Hunt posted his biggest margins in the Ward 16 precincts closest to his home. He won the pivotal Neponset Avenue polling station at Pope John Paul II Catholic Academy (16-7) with 285 votes— or roughly 67 percent of the votes. His margin was slightly higher at his home precinct, 16-5, the Richard Murphy School.
The contest for Florian Hall's lone precinct in the district, 16-12, was a tight one between Hunt and O'Toole, who had considerable strength in the Cedar Grove side of the ward. But Hunt managed to outpoll O'Toole by 12 votes at the Florian bellwether and defeat him by 26 votes at the Kenny School (16-9).
Before the polls closed at 8 p.m., Liam Curran stopped by Florian Hall to thank supporters. One large figure looming over the other signholders outside the hall was the heavyweight boxer Kevin McBride, Curran's brother-in-law, who said he had been outside the polling place since before 7 a.m. "He's a good kid. He came up from a family of ten kids. He is a lawyer and he wants to fight for the people of Dorchester. He'd be a good man to fill the seat of Marty Walsh," McBride said.
The flow to Florian Hall had slowed down by 7:30 p.m., with only a handful of voters trickling in to cast ballots. Warden Diane Zinck said only about 570 voters had come to the precinct throughout the day.
On most election days, Florian Hall would be at least twice as busy, since it houses both the 11th and 12th precincts. Precinct 11 is part of Rep. Daniel Cullinane's House district — a seat that was not on the ballot Tuesday. But that didn't stop several dozen voters who braved the cold temperatures to pursue the civic thrill of casting their vote from being turned away by poll workers for living in the wrong district for this election. "They're coming out and they know the names," Zinck said of the misguided voters, who have been bombarded with signs and approached by candidates over the last few months.
According to the Quincy city clerk, Hunt won the lone precinct across the Neponset River with 88 votes to O'Toole's 30, followed by Curran with 12 votes. Gorman and McCann received 4 votes and 3 votes, respectively.
After the votes were tallied, P.J. McCann went to Hunt's party to wish him well. "I like to hope we contributed something to the debate in terms of talking about economic inequality and making sure the neighborhood isn't left behind by the city's economic growth. In the end, I think he'll take that message up to the State House with him when he goes, and I congratulate him," McCann said, adding that he will return to his job as an attorney for the Boston Public Health Commission now that his race is over.