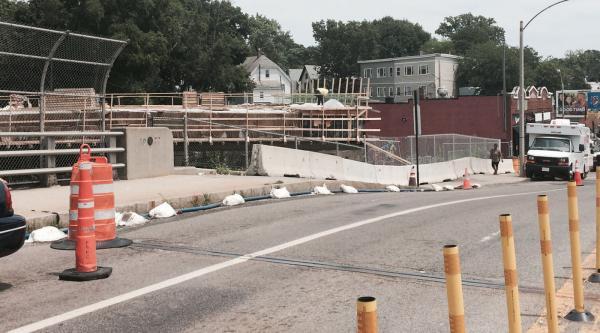 Beginning tomorrow night at 9 o'clock and continuing until early Monday morning, Aug. 18, the Morton Street bridge crossing will be closed to auto and bus traffic as work crews begin to replace the crumbling bridge. Detours will be in effect, with vehicles, including the 21 and 26 buses, being re-routed along Washington Street and Talbot and Blue Hill avenues.
While the project is scheduled to take ten days, MassDOT officials say construction workers may not need that much time, in which case the crossing will re-open to traffic ahead of time.
At a community meeting last month, MassDOT organizers told the gathering that the intent of the specific detours was to keep most of the traffic off side roads. They said they expected residents who know the area to use their own shortcuts.
Route 21 buses will use Norfolk Street and Talbot Avenue in both directions to travel to and from Ashmont while serving the west side of the bridge site. Eastbound buses heading to Ashmont on Morton Street will take a left on Norfolk and a right on Talbot. Westbound buses headed to Forest Hills via Talbot Avenue will take a left on Norfolk followed by a right on Morton. All departure times remain the same as existing schedules.
The Route 26 loop will only run up to the east side of the bridge site, using Dorchester Avenue, Talbot Avenue, Washington Street, Gallivan Boulevard, and Morton Street, then turning around in the parking lot of the commuter rail station from the entrance opposite Evans Street. From Ashmont, buses will travel up Talbot Avenue, turn left on Washington Street, right on Gallivan Boulevard to Morton Street, and a left into the commuter rail station lot. The route back to Ashmont: east on Morton to Gallivan, and a left on Dorchester Avenue to the station.
During the construction period, pedestrians will be able to cross the tracks at Morton Street over a temporary footbridge during the weekend of August 10 and over the new bridge when it is in place. The temporary span will be handicap accessible.
Parking won't be available at the commuter rail station, but there will be spaces along Morton Street during the construction. Parking will be restricted on the right side of Selden, Corbett, and Nelson streets to allow room for fire trucks to pass through. Boston Police will be placed at most major intersections and state troopers and EMS crews will be in position on both sides of the work site for the duration of the project.
The MBTA will deploy a number of "ambassadors" before and during construction to help commuters and residents navigate the detours. They will be stationed at the 21 and 26 bus terminals at Ashmont and Forest Hills stations, at the bridge, and at the commuter rail platform during peak transit hours, handing out fliers and answering questions.