By Jacob Aguiar, Special to the Reporter
August 6, 2014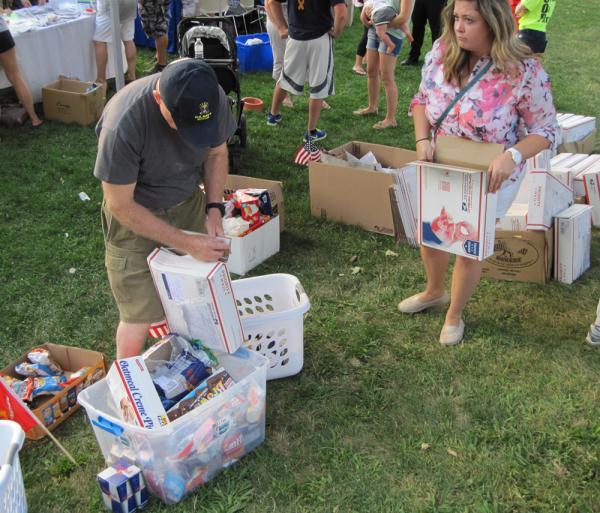 A diverse cross-section of the Dorchester community turned out to celebrate and honor three of our own serving in the armed forces in Afghanistan at the neighborhood's National Night Out festivities at Town Field Park in Fields Corner on Tuesday night.
"We are all C-11 tonight," said Area C-11 Boston Police Captain Richard Sexton. The police district serves most of Dorchester, including Fields Corner. "Tonight is a good example of the diversity and the cooperation amongst the different parts of Dorchester, " said Sexton.
Community groups including the Cedar Grove Civic Association, Cedar Grove Baseball, Citizens On Patrol, Leahy-Holloran Community Center, and Popes Hill Neighborhood Association worked together to organize a care package drive for U.S. Marines Lance Cpl. Sean Finn and Lance Cpl. Dan Keeler and Air Force Special Agent Dan Jernstedt. All three men currently serve in Afghanistan. Keeler and Finn are on their first tours of duty. Jernstedt is on his second tour and will be overseas for a year.
"They come from great stock, families born and raised in Dorchester," said Marine Patrick Callahan, 28, of Dorchester. "They are doing what a good amount of kids from Dorchester have done. The continuation of that service is a great honor."
Twenty one-year-old Finn grew up in Quincy, attended Catholic Memorial High School and played Dorchester Youth Hockey. According to close friend Taylor Ball, "He is the nicest kid ever." His father Joseph Finn was recently named commissioner of the Boston Fire Department.
Keeler is following in his father's footsteps by enlisting in the Marine Corps. He is 27 years old and a graduate of Milton High. His father is a Boston police detective.
"I know how important it was for my son to receive packages from home when he was serving," said Corrine Ball, a member of the Leahy-Holloran Community Center Council. Her son Michael served two tours in Afghanistan as a Marine. Another son just left for basic training.
"The idea for the care package drive was put together in less than a week by Ellen Maneikis from Citizens on Patrol and myself," said Ball. "When we knew the community would be coming together for National Night Out we thought it would be a good opportunity to give back to the people that protect us since all the soldiers have family members in public safety."
The care packages will contain T-shirts from local groups as well as the energy drink Red Bull, other junk food, and mousetraps they requested.
"Boston 4th of July, All Dorchester Sports League, Project DEEP, Dorchester Youth Hockey, and Boston RBI, all gave shirts," said Ball. "In the past we have gotten Snapchats from the boys wearing the shirts and letters of thanks. I think they like the T-shirts as much as the food. It means so much. It shows the whole community has come together to support them."
Mary-Anne and Bill Geary were busy packing boxes for much of the night. "Our son Mike Geary is home now but he was a recipient of these care packages twice on two different deployments," Mary-Anne said. "It was wonderful for his unit. It is great support and very uplifting."
Although Finn, Keeler, and Jernstedt are the named recipients of the care packages the men and women they are serving with will also partake in the comforts of home.
Toward the end of the night the drive began to exceed expectations. "We expected to send 10 boxes to each of the boys but we will be sending 15 boxes," said Ball. "We also raised $440 and it is probably only going to cost $500 to ship it all."
"When you think that less than 1 percent of Americans serve our county," Ball said. "It is pretty amazing that at least 100 people from our small section of the city have enlisted in the past year alone."