By Lauren Dezenski, Reporter Staff
June 5, 2014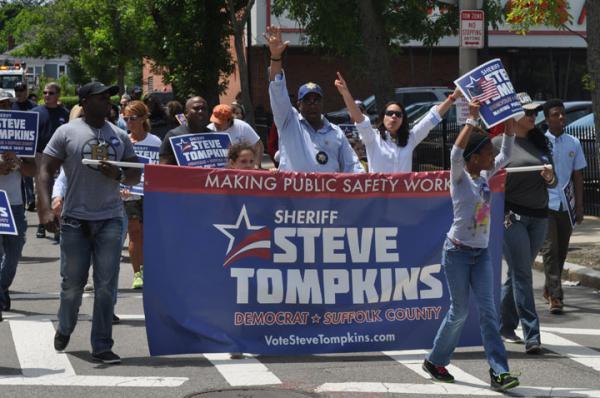 Martin J. Walsh has bestowed his very first endorsement as mayor on one of his own: State Rep. Daniel Cullinane of Dorchester. "In less than a year in office, Dan has already established himself as one of the hardest working state representatives in Massachusetts," Walsh said last week in speaking to a group of over 300 supporters at Ester Restaurant in Lower Mills. "He gives the job everything he has to offer, but more importantly, Dan has delivered for the people of his district."
State Rep. Russell Holmes, who was with the mayor, also endorsed Cullinane who is in a four-way primary battle for the 12th Suffolk seat just eight months after he won, with 75 percent of the vote, the seat that had been vacated when Linda Dorcena Forry moved on to the state Senate.
Cullinane previously had served as director of constituent services for then-Rep. Walsh. He also worked on Dorcena Forry's Senate campaign before taking up his own run for the House. He will face Corey J. Allen, Carlotta M. Williams, and Ruthella J. Logan-Cruz in the Sept. 9 primary. There is no Republican challenger.
***
In other endorsement news, Suffolk Sheriff Steven W. Tompkins has been endorsed by the corrections officers union, a first-ever for a sitting sheriff. At the Dorchester Day parade, Tompkins told the Reporter that the Local 419 endorsement would allow him to work with his department to move the department forward. "When we have our house together; it's easier to work together with the community."
Tompkins's challenger, Doug Bennett, also marched in the parade, and he told the Reporter about his plan to work with surrounding cities to get jobs for those who want to work.
The two Democrats will face off in the Sept. 9 primary. There is no Republican candidate.
***
Just before Walsh cut the ribbon to officially start Dorchester Day, City Councillor Charles Yancey was seen showing the mayor a copy of his recently released monthly newsletter, with a front-page picture showing the mayor and the councillor touring a 14-acre site where a new Mattapan High School might sit. Yancey has been pushing for a high school in Mattapan for years.
At Yancey's request, Walsh had visited the site the day before, following the Mattapan Boys and Girls Club groundbreaking, said Kate Norton, the mayor's spokesperson. "It was a short informational visit with a very small group, including the mayor and councillor, and an aide from each office," she said. According to Yancey spokesperson Ken Yarbrough, the two also discussed the loan-order process. Yancey has submitted a loan-order to the City Council every year for the last 13 years to fund the $120 million school. The councilor hoped to spark the mayor's interest in the project with the visit, Yarbrough said.
***
Warren Tolman, who is running for attorney general has unveiled a comprehensive urban agenda that has drawn praise from three of Dorchester's elected officials. State Sen. Linda Dorcena Forry, Suffolk Sheriff Steven W. Tompkins, and City Councillor Tito Jackson are among a handful of elected officials of color who have endorsed Tolman for his urban agenda and overall campaign.
The agenda, which Tolman said casts him as a "neighborhood attorney general" addresses equality, opiate abuse, gun violence, education, immigrant communities, and improving the criminal justice system. "There is no better leader to protect families facing foreclosure, reduce gun violence in our neighborhoods, and be a voice for seniors, women and communities of color than Warren Tolman," said Dorcena Forry, who is married to Reporter publisher and editor Bill Forry.
Said Jackson, "Warren Tolman has a vision to work with and for all of the urban communities in Boston and around the commonwealth. He will build an attorney general's office focused on ending gun violence through innovative technology, reforming our criminal justice system to be smart on crime, and protecting consumers from fraud and abuse."
Tompkins called the former state senator and 2002 gubernatorial candidate a "courageous and principled leader. His unrelenting willingness to work on addressing the weaknesses in our criminal justice system is impressive. Accordingly, I am endorsing Warren and looking forward to partnering with him on the repeal of mandatory minimum sentences for nonviolent offenders; on the need for more detox and mental health resources, and on strengthening our reentry programs." Tolman also picked up the support of At-Large City Councillor Michelle Wu and former At-Large Councilor Felix G. Arroyo.
Tolman faces Maura Healey, a fellow Democrat, in the Sept. 9 primary. His urban agenda can be found on his campaign website, Warrentolman.com.