By Michael Norton, State House News Service
April 9, 2014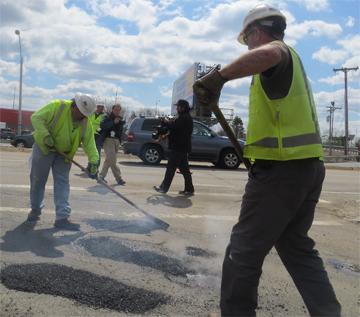 As funding for statewide and local road and transportation projects remains tied up in legislative negotiations, the Patrick administration on Wednesday announced a $40 million one-time program aimed at helping communities recover from the potholes left behind by another tough winter.
Transportation Secretary Richard Davey and MassHighway chief Frank DePaola spoke at a press conference on Gallivan Boulevard to discuss the $40 million program, which uses fiscal 2014 funds.
According to a program announcement obtained by the News Service, the initiative is designed to facilitate repairs of potholes, street cracking and damage to guardrails and signs, as well as repairs to municipal vehicles, garages and fueling stations. Smooth roads are the goal, one official said.
Work under the program must be completed by September. According to a program summary, $30 million will be allocated based on the Chapter 90 formula that governs state aid to cities and towns for road projects. The other $10 million is for state roads.
Funding for the program is coming from "anticipated surpluses created by the delay in the passage of the Transportation Bond Bill," according to a program summary.
House and Senate negotiators are working to settle differences in multi-year transportation bond bills that call for $300 million in spending on the Chapter 90 program in fiscal 2015 and include funds needed to break a logjam of state projects on holds while legislative talks continue. Gov. Deval Patrick has notified communities to expect $200 million in Chapter 90 funds, a level the administration says is affordable.
State transportation officials this week also plan announcements about work-zone safety awareness in Dedham, a Friday morning announcement about the future of the state's real-time traffic system, and a reunion Friday of nine former transportation secretaries at the Intelligent Transportation Society of America conference at the State Transportation Building.