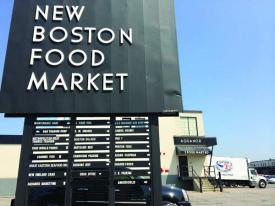 New Boston Food Market: Employs 700 people, many of them local, and could be undermined by a planned trash transfer plant, according to owners.
An embattled proposed recycling facility located in the bend along Interstate 93 in South Boston has many people pointing fingers.
The proposed $10 million, state-of-the-art Celtic Recycling project would process 1,500 tons of construction and demolition debris daily, as well as single stream recycling of cardboard, newspapers, cans, and bottles within a 55,000 square-foot former blast freezing facility.
This summer, businesses and neighborhood groups in Dorchester, South Boston, and Roxbury banded together to form a "Don't Dump on Us" task force out of fear that the proposed facility will be fast-tracked to completion.
"Because this has been so disingenuous, at this point we are very concerned about the cloak of darkness that lets things have a way of slipping through when no one pays attention," Sue Sullivan, who is heading the group, told the Reporter.
The task force represents the Newmarket Business Association, a half dozen neighborhood and civic associations including McCormack, Andrew Square, and West Broadway, and the New Boston Food Market, the only other tenant located at Widett Circle and directly abutting the proposed site. New Boston houses more than 20 food production businesses and employs 700 workers, many of whom could stand to lose their jobs if Celtic's facilitybecomes a reality, they say.
Celtic, however, is crying foul. "I hate to say this, but it seems like Sue Sullivan and her friends are on a smear campaign," said Susie Y. Chin, founder and CEO of Celtic Recycling, LLC. "It seems like they're trying to tarnish our image before we even have our fair chance. It seems like she's on a campaign to squash our plans."
Chin said the "plan is to repurpose the building and keep its existing shell" with "all handling and processing done in a fully enclosed building." The state-of-the-art facility, located a straight shot from the rapidly developing Seaport district, would also create 100 green jobs and be built using union labor.
"It's a bad idea," Sullivan said of the proposed site. "You can't mix food and waste. It makes no sense at all and we can't figure out who is behind this politically."
Widett Circle's proximity to major roadways, railways, shipping ports, and the airport makes it an enticing piece of real estate for many. Its 16-plus acres, along with neighboring parcels, including a Boston Transit Department tow lot, have even been floated as a potential site for a 2024 Olympic facility.
Celtic's plans to begin construction on the facility this September were put in a holding pattern last fall as rumors swirled about the MBTA claiming the site, which features rail access, by eminent domain for a South Station expansion or layover station.
This spring, the MBTA determined that it was "not pursuing acquisition of this property," MBTA spokeswoman Kelly Smith said in an e-mail, although Celtic and other involved parties say they were unaware of the MBTA's decision for the parcel until it was reported in the Bay State Banner earlier this month and last week in the Reporter.
Now that the MBTA roadblock is apparently out of the way, Chin said her team will swing into action to begin the site assignment process with the state Department of Environmental Protection. "There's still a long road ahead for us. It's quite a process. Rome wasn't built in a day or even the course of a year and a day," Chin said.
Part of that process includes the support of the City Council. Celtic Recycling has previously received backing from a number of elected officials, including Council President Bill Linehan and Mayor Marty Walsh when he was a state representative; but other local elected officials are balking. Councilor Tito Jackson told the Reporter that he would vote against the facility if it is brught to a vote in the council.
"We should be removing waste from the city, not bringing it in, and supporting the important economic engine that is currently running in that location," Jackson said. "The very successful food distribution business currently there is not worth risking for one waste company."
Jackson continued: "The business owners deserve to not have their business interrupted and, most importantly, the community deserves to have its voice heard and to decide the future development that they want. To date, all community members I've spoken with have voiced opposition to the sited waste plant."
Sullivan and others also take issue with Celtic Recycling's leadership. The company is a start-up founded by South Boston residents Chin and George O'Toole, though neither has experience in trash or recycling, opponents say. Chin previously worked in communications while O'Toole was at one time a regional director of the Massachusetts state lottery. The two, who have known each other since childhood, joined forces to start Celtic Recycling a few years ago.
"It's smoke and mirrors," Sullivan said. "It's nothing against Chin and O'Toole. I don't understand why we would put a waste facility at the gateway to the city and next to 21 food business that provide fresh food to the city. If you eat something fresh in this city, there's a 90 percent chance it came from Newmarket Business Association [of which New Boston is a member]. People just don't realize that."
Sullivan and others on the task force say that Celtic Recycling intentionally sought to cut the community out of its bid for 100 Widett Circle, beginning with an incident last July when, New Boston says, it learned of the proposed facility when an employee happened upon a posting in South Boston Today from the state about a short window for public comment on Celtic Recycling's proposal.
"Imagine if that hadn't been brought to our attention," said Marion Kaiser, CEO of Aquanor Marketing Inc., a seafood distribution company housed in the New Boston facility. Kaiser and other New Boston member companies, including Great Eastern Seafoods, True World Foods, Rago Veal Company, and Robbins Beef Company, proceeded to file as many opposition letters as possible.
In September, Celtic successfully requested a waiver of a a mandatory environmental impact report. In his written decision, Massachusetts Department of Environmental Protection Secretary Richard K. Sullivan notes "the substantial number of comments submitted in support of the project as well as the smaller, but by no means insubstantial, number of comments requesting that I deny the waiver request, including those from food companies located on Widett Circle."
Said Kaiser: "We were thunderstruck that they got the waiver not to do the environmental study. Yes, the area is zoned for industrial use, but when you look at the reality of what happens here, it's pretty clear we're not industrial."
In the early '70s, the city opened the New Boston Food Market, making a new home for food production businesses that once called Faneuil Hall home but were moved away as the city updated its core. Hailed by The Boston Globe as "conceived by necessity," the Widett Circle compound is bisected by its namesake roadway, which is carved wide enough to fit hauling trucks, and buttressed by train tracks close enough to haul sides of beef straight from the rail car onto New Boston's five miles of overhead meat carrying rails.
So long as neighbors are open to listening, Chin is adamant that Celtic can peacefully coexist with everyone involved. "We have guidelines, we have standards by which we conduct our business.They have theirs, we have ours. As long as we do the right thing, we'll be running our business properly. We're creating up to 100 jobs, local jobs. Our intentions are great for the community. I wish people could share that vision without shutting their eyes to it."
Sullivan and the members of the task force continue to meet and they say they will continue to sound the community alarm loud enough for the elected officials who initially supported this site to hear.