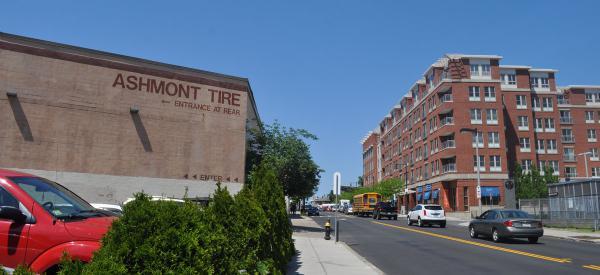 Tire business will remain open as proposed development is planned
Trinity Financial, Inc. has entered into an agreement to purchase Ashmont Tire for an undisclosed price and intends to build a six-story residential building with ground-floor retail space, a development that would mirror the successful Carruth building across the street.
The existing tire and auto repair business across from Ashmont station could become the next major redevelopment site on Dorchester Avenue— if an emerging plan from Trinity is embraced by neighbors.
The company, which is owned by Ashmont Hill resident James Keefe and includes other Dorchester residents in key positions, has earned a reputation as a trusted and committed builder in Boston's neighborhoods, especially in Peabody Square. The Carruth property, which rose from what was once a forlorn MBTA parking lot in 2006-07, has become a model for so-called "transit-oriented development"— a concept that Trinity hopes to replicate with a new building on the Ashmont Tire site.
Ashmont Tire is a family-owned business that has been in operation at 1961 Dorchester Avenue for nearly four decades. The business has been run by the Seigal family for three generations and will continue to operate as the Trinity project is finalized. A purchase and sale agreement is presently in a 90 day "due diligence" phase as Trinity inspects the property and reaches out to abutters and civic associations to explain their initial ideas for redevelopment. The Trinity team includes project manager Matt Zahler and Ashmont-Adams resident Chris Stanley, who will supervise design and construction of the Ashmont Tire site. Stanley is a veteran civic activist who played a key role in efforts to re-design Peabody Square over the last decade.
Stanley and other Trinity officials met with neighbors in Ashmont Hill on Tuesday and were set to present their initial plans to Fuller-Bailey Street neighbors on Wednesday. A discussion of the Ashmont Tire proposal is listed on the agenda for tonight's monthly meeting of the Ashmont-Adams Neighborhood Association.
"We think it is a good idea, but we want to go before the community first and get their buy-in," said Stanley. "We don't have any plans to show yet, but we will show folks the existing site plan. This is going to be 88 units of housing, with four floors of affordable housing and two of market rate condos, very much like the Carruth building, with first-floor retail."
The building would be sited over two parcels now owned by Mike Seigal, owner of Ashmont Tire.
"We think the market is going to be strong on this project," said Stanley. "Affordable housing is on everyone's mind as the mayor and his administration is trying to bring more moderate income housing to the city. We think this is an opportunity to do that. Dorchester will lead the way again."
The Trinity team will seek— and need to secure— low-income tax credits offered by the state to subsidize the project's construction.
Thursday's meeting of the Ashmont Adams Neighborhood Association will be held at 7 p.m. at the Plasterer's Union Hall, 7 Fredericka St.