By Bill Forry
September 19, 2014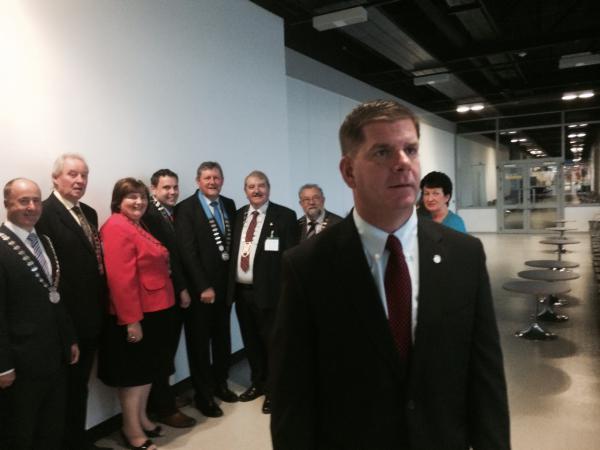 SHANNON, Ireland – Boston Mayor Martin Walsh has walked through the gates of Shannon Airport at least a dozen times in his 47 years. This arrival will be hard to beat.
The Dorchester born-and-bred Walsh was greeted by a crowd of jubilant admirers— including many relatives from the Connemara region, some of them holding Irish and American flags in a festive welcome heavily accented with the lilt of the native Irish language, still alive in well in the
west of Ireland.
The mayor began a 10-day visit to the country of his parents' birth by boarding a fully-loaded Aer Lingus Airbus, which departed Boston around 7:30 p.m Boston time. Thursday and arrived at Shannon at 5:25 a.m. Irish time, about 40 minutes ahead of schedule. Walsh, who flew in coach alongside his partner Lorrie Higgins, was greeted in the terminal by his mother, Mary Walsh, who flew to Ireland last week to make preparations for her son's historic visit to her hometown, Rosmuc. Walsh will also visit his late father John's home village, Carna. A bus load of Connemara neighbors— who woke up at 3 a.m. to make the trip to Shannon— were on hand to greet Walsh as he made his way through the terminal.
---
Video courtesy Eugene Hogan
---
At the airport, officials hailed Walsh's visit as the latest boost for the west coast of Ireland. "It sends a huge message about the strength of Shannon and the region," said Rose Hynes, president of Shannon Airport. "And he lives that message himself."
At a press conference in the airport terminal, Walsh fielded questions from the Irish press corps— and three of the Boston area reporters covering the trip. Two reporters posed questions to Walsh in the Irish language, which he then translated for the benefit of the non-Irish speakers in the room.
The mayor described Shannon Airport as a special place in his own personal history. "This is the very spot where my family's American journey began," Walsh said, recalling that his father John emigrated from Galway to England and then Boston in 1956. His mother Mary flew from Shannon to begin a life inBoston in 1959.
Later, after a breakfast with business and political leaders from the west, Walsh greeted a large group of well-wishers in the outer terminal of Shannon and gave interviews to Irish radio alongside his cousin, Peter O'Malley, a native of Connemara. He listened as the national Irish radio station, RTE, played a song about Walsh recorded by a group of schoolchildren from his father's town, Carna. The schoolkids won a contest sponsored by the station which asked Irish-language schools to create a song in the mayor's honor.
Among those at the airport to greet him was Colleen McGhee, 22, of Dorchester, who has lived in Ireland for the last year as she attends the Shannon Hotel School, based at the airport. McGhee grew up on Pierce Avenue as a constituent of Walsh, who was a state representative before winning the Boston mayor's job last year. McGhee jumped at the chance to serve breakfast to the mayor and his guests at a breakfast held at the airport in his honor. Also there to greet Walsh were Cathy Mulkerrin and Maureen Flaherty, who live in Carna, but have roots in Dorchester.
Walsh travels to Galway and then spends private time with his family in Connemara before beginning a busy schedule of public events in Galway, Donegal, Derry, Belfast, and Dublin. He returns to Boston on Sept. 29.