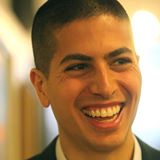 Mayor-elect Marty Walsh will lean on one of Arianna Huffington's right-hand men to manage his City Hall office, the Reporter has learned. Daniel Arrigg Koh, who is presently the general manager at HuffPost Live, is an Andover native at Harvard graduate who has served as an advisor to Mayor Tom Menino in the past. The news was first reported on Twitter by Reporter news editor Gintautas Dumcius.
Later, in a statement released by Walsh's spokesperson, the mayor-elect stated: "I'm excited to have Daniel joining our Administration and bring a fresh, new energy to the Mayor's Office. He has broad experience about City Hall and a deep understanding of managing a large, fast-paced organization. We have great talent joining us, and I know Daniel will help me transform the way we do things in Boston."
Koh has worked for Mayor Thomas Menino, serving in the Harvard Business School Leadership Fellow program from 2011 to 2012. He studied government in Harvard College and received a masters in business administration at Harvard Business School.
His resume also includes Booz Allen Hamilton, Spencer Stuart, the New England Patriots and the Lincoln Center for the Performing Arts, and labor relations for Major League Baseball.
This post was updated at 6:38 p.m. with additional information on his background.