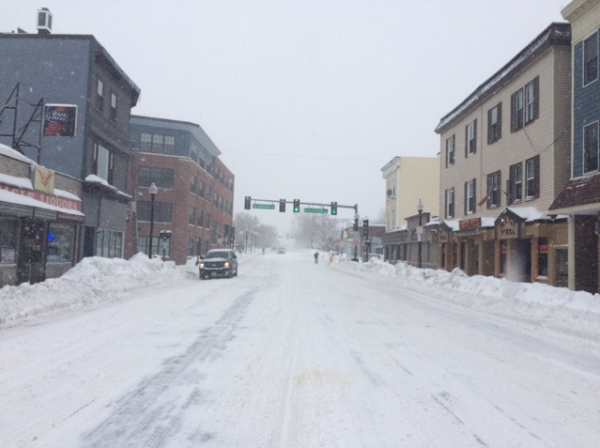 UPDATED 4:30 p.m.:
The city of Boston is in the throes of a historic bout of snow and it shows little sign of letting up, officials say.
Mayor Martin Walsh encouraged residents to stay off the city streets for the rest of the day Monday and the entire day Tuesday to allow crews space to remove snow and widen already plowed streets. The city's parking ban will remain in effect until further notice, he said, and expects it to be in place until the end of Tuesday.
The MBTA announced it would shut down subway, commuter rail, and trolley service at 7 p.m. Limited bus service will continue until the end of service hours, according to the T's website.
"If we get cooperation with cars off the street, by Thursday we'll be in pretty good shape as far as main thoroughfares and intersections and then get to side streets," Walsh said in a press conference Monday afternoon at City Hall.
Walsh said the city's snow removal budget, normally $18 million, would be doubled by the end of the week. "I'm not concerned about cost of the snow because there's nothing we can do about it.
The city will also not make a decision on whether to cancel classes until Tuesday after the city assesses its snow removal, Walsh said. Parents are encouraged to keep an eye on children playing in or near streets.
Walsh said the city would "have to build in some more potential snow days because it doesn't seem like the winter is going to ease up on us anytime soon."
--
Boston could see another two feet of snow by the time the latest storm ends early Tuesday morning, the National Weather Service said.
Once again, the snow has forced schools and city offices to close, with Boston Public Schools canceled on Monday and Tuesday and all on-essential municipal employees asked to stay home. The Saturday to Tuesday stretch of storm will drop between 14 and 18 inches of snow on top of the city's historic snow pile, according to the weather service.
At Eagle Liquors on Dorchester Avenue, business has been slow but steady through the storms.
"As soon as they announced schools were closing, we were really busy, up until closing at 5 p.m.," said Carol McClain, an employee at Eagle Liquors. Owner Ron Tutunjian said he was lucky to have McClain in, who was filling in for another employee who had young children. "Thank god my daughter's old enough to watch my nephew," McClain said.
Parents have scrambled as Boston Public Schools continue to be canceled due to the weather. In a press conference yesterday after announcing school closures and the city's storm prep, Mayor Martin Walsh said after this, one more snow day and "we have a problem."
The district is legally required to provide 180 days of classes for students and will consider holding classes on "Evacuation Day (3/17), Bunker Hill Day (6/17), Good Friday (4/3), and vacation breaks. We will work with various school unions to establish a calendar for the remainder of the year, while prioritizing holidays such as Evacuation Day and Bunker Hill Day," the district wrote online. "We will continue to update families as we have more information."
Gov. Baker expressed "disappointment" in the MBTA's performance this morning. The Red, Blue, Orange, and Green Lines will run at midday schedules throughout the day due to the weather. Busses have again replaced all service on the Mattapan Trolley line on Monday.
"I am disappointed to hear that the MBTA and commuter rail are currently struggling to provide service due to weather conditions, with closures reported on the Red Line Braintree branch and significant cancellations on the commuter rail," Baker said in a statement. "The MBTA's condition and performance is concerning, reinforcing the need for riders to stay home as the MBTA works to get trains running and tracks cleared."
As of noontime Monday, the city of Boston had plowed 203,230 miles of roadway for this snow season and used 57,400 tons of salt.
Eagle Liquors' Tutunjian said his family has owned the Dot Ave outpost for 85 years and remembers the Blizzard of '78, when his family was snowed in at their Milton home for a few days before the street was plowed.
"It was fun at that point, but it was a couple days and then it was over," he said. "We didn't get bombed for two, three, four weeks like this."