By Lauren Dezenski, Reporter Staff
February 4, 2015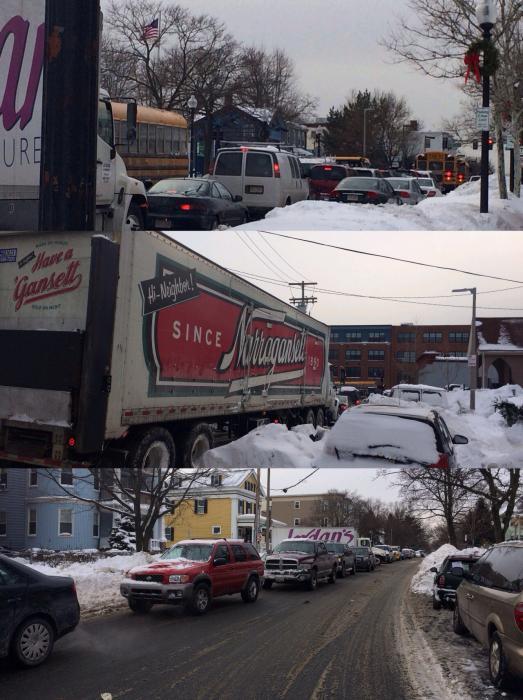 It is the winter that won't let us up.
Last week's Blizzard of 2015, a two-day event, was the opening act of a week-long series of storms that as of Wednesday had dumped a record 40.5 inches of snow onto the city.
The snow, coupled with cold temperatures, meant no melting of the growing snowpack – and headache-inducing commutes for people on the roads and rails in Dorchester and across the state.
On Wednesday morning, Dorchester Avenue grappled with gridlock along its entire length as commuters tangled with large trucks making deliveries and yellow school buses, back on the road for the first time this week after another two days of canceled classes.
"A lot of us are dealing with a lot of new cars on the road," Mayor Martin Walsh told the Reporter on Wednesday. "A lot more people went to work today and the school busses. But that's happened on Dot Ave in the past with no snow on the ground."
"Not every street in Boston was like that, but it was tough on Dorchester Ave. today. Part of it is that there's still a lot of snow on the ground," said Walsh. "Unfortunately, I know people hate it when I say this, but people need to be patient. I don't like sitting in traffic as much as anybody but we're doing our best to fix the problem."
Asked if the congested roadways would be resolved by the end of the week, Walsh replied, "It depends. We're supposed to get more snow next week, so well see what happens."
The cancellations this school year to date – six days of no classes – mean classes are likely to run until June 29, the Globe reported.
Cleanup for the storms could also "shatter" the city's snow removal budget, Mayor Walsh told reporters he estimated the clean-up costs for the blizzard alone were at about $10 million.
Crews continue working to widen streets narrowed by large snow banks spilling into the street. For this year to date, crews have spent 84,491 hours plowing the city's 850 miles of roadway, using 52,698 tons of salt, according to the city's recently launched Snow Stats webpage, which tracks the city's response to snow by neighborhood. On Wednesday afternoon, the page was not in operating mode.
Commuters on the T experienced extreme delays on Monday and Tuesday due to the crush of the snow and an aging transportation system, at one point leading MBTA General Manager Beverly Scott to encourage people to avoid the trains.
"Quite candidly, if you don't wind up having to use the service [Tuesday], that probably is a plus," Scott told WBUR Tuesday morning. "I'm just going to be candid. I've never said that in my life, but I don't want to wind up misleading anyone."
As thousands began to streamed into the city on Wednesday morning for the Patriots victory parade with Dorchester's duck boats carrying the team's members and staff passengers through downtown's plowed streets, passengers on the T were told to expect delays due to the parade.
Scott had said on Tuesday that the T could not run additional trains to accommodate the crowds.
Boston has received 53.4 inches of snow this winter–already some 10 inches more than the city average for an entire winter. And Mother Nature seems to have more in store, with another bout of light snow through Thursday and the potential for what forecasters are terming "more significant snowfall" late Sunday and into early next week.