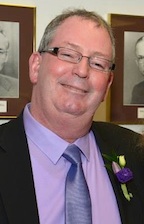 Dorchester has lost one of its most reliable and energetic allies on the political and civil rights front. Jimmy Cawley, who was best known for his work to help disabled adults find employment through the Dorchester-based WORK Inc., died overnight after a brief illness.
Cawley suffered a stoke two months ago that turned out to be caused by an advanced form of lung cancer, which was untreatable. Jimmy leaves his wife Elisa and his children Christina and Kevin.
"Our long- time friend, colleague and really great guy Jimmy Cawley passed away around midnight last night," his colleague Jim Cassetta, president of WORK, Inc. He was blessed with a loving wife Lisi; a loving family, and all of us as his friends and colleagues.
"It is a sad day for all of us at WORK, Inc. and his loss will be felt for many years to come. Please keep his family and wife Lisi in your thoughts and prayers."
Joyce Linehan, the chief policy advisor to Mayor Marty Walsh and a close friend of Jimmy's, posted this message on Facebook: "We at City Hall and in Dorchester and in community and disability advocate circles all over Boston have heavy hearts this morning, after learning of the death of Jimmy Cawley last night. He definitely left the world much better than he found it."
Cawley played key roles in campaigns for progressive political figures, including Mayor Walsh and Sen. Elizabeth Warren.
Elisa Birdseye, Jimmy's wife, broke the news on social media, telling friends that "Jimmy slipped peacefully from this life last night around midnight."
"I have the comfort of knowing that for the past week he was being cared for by an incredible team of doctors, nurses, social workers and others in the palliative care unit of Brigham & Women's Hospital. Their skill and compassion are what everyone should receive in their final days. I am also grateful for the huge outpouring of love from so many of our friends.
"Thank you to all of you who sent cards, sent prayers, offered help, etc. The love was tangible and sustaining to us both, and to the rest of our family. Everyone should be so lucky to have such incredible people in their lives," she wrote.
Funeral arrangements are still in the works.