By Lauren Dezenski, Reporter Staff
June 25, 2015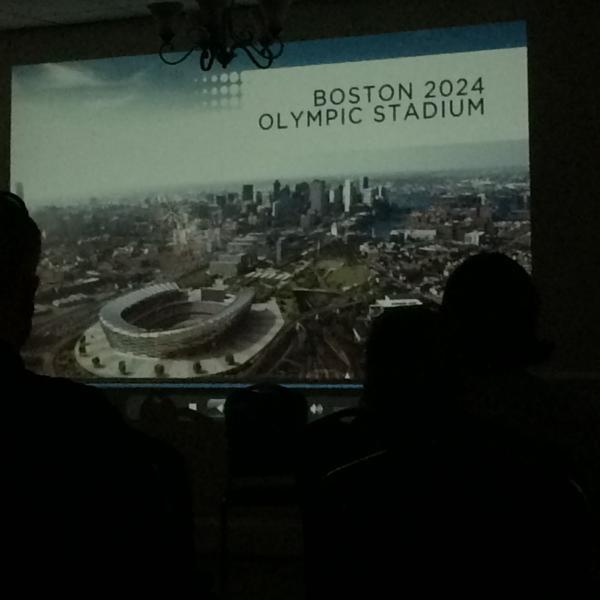 Wednesday night, Boston 2024's Chief Administrative Officer Joe Rull delivered his pitch to a group of 30-some residents at the McKeon Post in Neponset–one of the ongoing small-group meetings Boston 2024 is convening around the state to win over hearts and minds, one meeting hall and house party at a time.
Rull replaced Boston 2024 CEO Rich Davey, who was initially scheduled to anchor the meeting. Davey and co. are burning the midnight oil to iron out the specifics on two key aspects of the updated bid: the Athletes Village and the stadium at Widett Circle before the June 30 deadline.
Key themes emerged at the meeting: Boston 2024 has more specifics about transportation improvements coming–but all of that is subject to change. "I don't want to get up and show you a map that will be out of date next week," Rull said. "But I want to address any of the inaccuracies out there."
Specifically: The Athletes Village on Columbia Point renderings. The new ones will be "much more defined and detailed plan with a traffic plan for Dorchester and South Boston," Rull said. "How can people in Dorchester can walk to the water without taking your hands into your own life at K-Circle?"
That access issue was a point for many in the community cut off from the waterfront by the Expressway, including City Councillor Frank Baker.
The meeting was hosted by Angela Quinn of Neponset and news of the meeting was circulated among neighbors on social networking site Next Door and community newsletters.
Not everyone who attended was on board with Olympic plans. Olympic opponent Nancy Sinclair of Quincy attended. Sinclair told the Reporter that she lives near Squantum Point, where Boston 2024 announced last week it would host beach volleyball during the Games. "To be fair, I was against this even before it came to Quincy," Sinclair told Quinn after the meeting.
"The feeling among a lot of people I know is that we're getting steamrolled. Everyone I know is against it," Sinclair said.
"That's the beauty of a referendum," Quinn replied. Boston 2024 is pursuing a ballot question on the Games for the November 2016 ballot. Meanwhile, Evan Falchuk and a coalition that now includes those who helped to "tank the gas tax" have united to collect enough signatures to put their own question on the ballot, which would prevent taxpayer money from being used for the Olympic Games.
Sarah Schoff of Pope's Hill said after the meeting that she was curious about Boston 2024's plans "dovetailing with the mayor's climate action plan and federal flood maps." Jake Hasson, Boston 2024's community engagement coordinator for Dorchester and South Boston, took her card and promised to follow up.
The thinking behind these meetings, Rull said, is "trying to think of how we can be most effective to talk to folks. Those big community meetings haven't been conducted to get into the nooks and crannies of the neighborhoods to get the feedback."
Ed Laurentis, who attended the Dorchester community meeting in May, brought his five-year-old son and 7 month old daughter to Wednesday night's gathering. "I got him to come when I told him it was about the Olympics," Laurentis said, gesturing to his son, after the hour and a half meeting wrapped.
"Let's just go already" his son replied.
For more on Boston's bid to host the Olympic Games, subscribe to The Relay.