By
Staff
December 12, 2015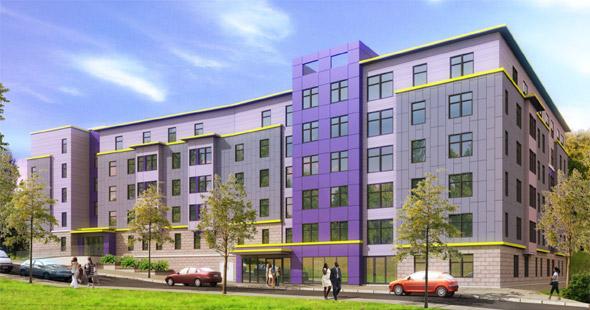 Developers have filed plans for a city-owned vacant lot in Uphams Corner that would include 80 apartments, eight townhouse condos and a building for light-industrial and office use.
The Indigo Block, proposed by a team lead by the Dorchester Bay Economic Development Corp., would sit on a 2.75-acre lot at 65 East Cottage St., next to the Uphams Corner stop on the Fairmount Line.
"The residential program aims to serve the City of Boston's working and middle class families and individuals. The apartments are proposed to include approximately 22 one bedroom, 48 two bedroom, and 10 three bedroom units. Approximately 44 units will be reserved for families making at or less than 60% of the area median income, approximately 10 units will be reserved for families between 61% and 80% of the area median income, and approximately 26 units will be reserved for families between 81% and 110% of the area median income."
The eight townhouses would be sold at market rates.
The project would include 54 spaces set aside for apartment residents, with another 13 shared with the tenants of the industrial/commercial building. The townhouses would have their own parking.
A two-story, 24,000-square-foot industrial/commercial building would be aimed at small companies:
"Some categories of potential users include wholesale distributors, small manufacturing, food business, high-tech manufacturing, and general wholesale. ... Second floor office users could include architects' or contractors' offices, small publishers or printing firms, or other light industrial users (i.e., artists and artisans) that do not need first floor spaces with loading dock connections."
More details from the developer (31M PDF).