By Lauren Dezenski, Reporter Staff
March 25, 2015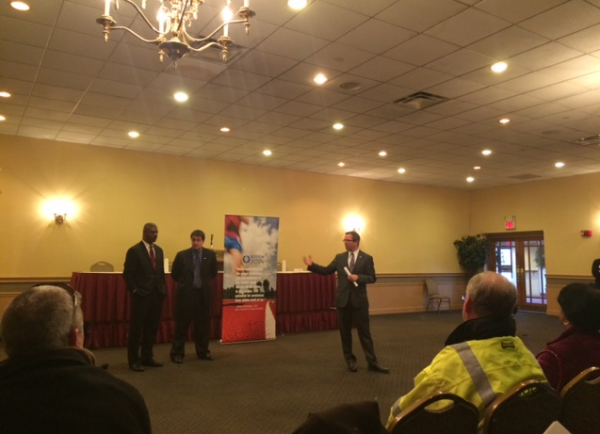 The Games are on for Mayor Martin Walsh's political team. His "super volunteers" are being prepared to move onto the field under the Boston 2024 banner to engage in an extended grassroots campaign to promote a positive public conversation about the bid to bring the Summer Olympics competition to Boston.
Some 75 members of Team Walsh, joined by reporters and camera crews, assembled at Florian Hall on Tuesday evening to get their marching orders in a setting of sandwiches, fruit, and a cash bar. As to elected officials, City Councillor Frank Baker was the only one present, and he made it clear he was there on this occasion representing his district rather than as a working supporter.
"Tonight here, we're running a political campaign," Baker told the troops. "Normally at an organizational campaign you meet the candidate, ask them questions. That's what we're doing tonight," Baker reiterated that while he does in fact support the bid, he will keep asking questions. "I do think they will happen," Baker said of the Games. "I think it will be a heavy lift, but I think it will happen."
In the presentations, Boston 2024's Chief Administration Officer Joe Rull and the political consultant Chris Keohan called the evening an "organizing meeting" – par for the course in any sort of campaign. "What's more surprising is that there's TV cameras at an organizing meeting. Most of us have organized meetings before, we know what this is like. We have to start talking to voters and non-voters alike about why we support the Olympics," Keohan said.
The founder of the consulting firm CK Strategies and a senior member of Walsh's 2013 mayoral campaign team, Keohan laid out some specifics of the outreach strategy, which included campaigning at Little League fields, soccer fields, baseball diamonds – anywhere the athletically inclined gather.
"This is a little different from a political campaign," he said. "We get to areas where you don't normally get to go to for campaigns. We can talk to parents and kids that aspire to be in the Olympics." Keohan also said he is hiring another three staffers to help with community outreach. "We are going to organize anywhere we are allowed to speak," he said. "This is not secretive. We want to hear from every community."
On Tuesday morning, John Fish, the CEO of Boston 2024, announced that the private, nonprofit organization will seek a statewide ballot referendum in November 2016 – and, he added, if the question cannot capture the majority of the city and state's support, the bid will be dead. "The people of Massachusetts can make the final decision on whether we have achieved those goals," Fish said in his statement.
Walsh more or less endorsed the move by the 2024 group, saying in a statement: "The success of our bid for the Olympics depends on the support of residents and we should only move forward in a way that will bring the greatest benefit to the city and its neighborhoods."
In order to sponsor a statewide ballot referendum, Boston 2024 would need to gather 64,750 signatures, according to the Boston Globe, and then gain the approval of the Legislature and Secretary of State William Galvin to place it on the ballot.
More: Opponents plan own ballot question, urge Boston 2024 to sign on
On Monday, legislative leaders partnered with Gov. Charlie Baker to announce pursuit of an independent study into the possible impact of the Games on the state's taxpayers. Baker, House Speaker Robert DeLeo, and Senate President Stan Rosenberg teamed up to commission a $250,000 report that will be due in July. The commonwealth will accept bids to conduct the report from firms outside of Massachusetts, according to a Baker aide.
Against all this activity came evidence of sinking support for the Games in public opinion polls and pushback from elected officials, but at Tuesday night's meeting, Rull said that no matter the public optics, Boston 2024 is listening. "Just because we haven't acted on your concerns yet doesn't mean we're not listening. We're going to change our plan and make sure we're listening to the folks that live here."
But during that process, Rull said, patience will be important. "We're in the early stages of this. We still have another, geeze, two years until we find out whether or not we're chosen," he said.
"We ask for patience and to allow for our story to be told."
This article has been updated to correct the spelling of Chris Keohan's name.