By Lauren Dezenski and Bill Forry
May 21, 2015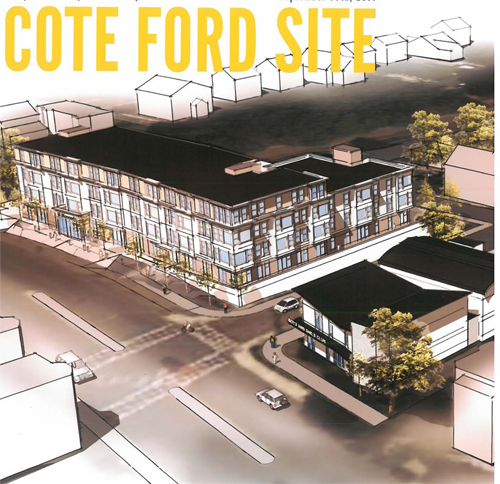 A little-known, but powerful city commission today approved a pair of redevelopment projects along the Fairmount Line corridor that have wide-ranging implications for the Walsh administration's ambitious goals to build new, affordable housing over the next 15 years.
The three-member Public Facilities Commission voted unanimously to approve recommendations by the city's Department of Neighborhood Development (DND) to award development rights to a partnership led by a longtime Uphams Corner community development corporation that will transform an abandoned industrial plant on East Cottage Street into a mix of housing and commercial space; the commission also endorsed a plan by a trio of nonprofit developers to convert an old Mattapan car dealership into a mix of housing, retail space, and a new satellite branch of the Boys and Girls Clubs of Boston.
The commission, which met on the 10th floor of the DND headquarters on Court Street, made their decision after presentations from DND's respective project managers and input from DND chief Sheila Dillon. The city agency issued requests for proposals for each property last year and has been supervising a community input process that was — according to Dillon— pivotal in their recommendations to the board. The board members present were Katherine Craven and Lawrence Mammoli. A third member of the commission, Patrick Brophy, was not present for the vote.
The East Cottage Street and Cummins Highway properties are closely-watched projects in two respects. First, each is situated in close proximity to the Fairmount commuter rail line and are on the vanguard of a highly-anticipated wave of mixed-use development spurred by heavy public investment into the rejuvenated transit corridor. Secondly, in each case the competing proposals that have emerged to win the city-owned land as seen as early indicators of how the Walsh administration will square the mayor's stated housing goals — including an ambitious expansion of so-called "workforce" units— with grassroots calls for more affordable options.
In both Uphams Corner and Mattapan— based on today's decision— city officials have opted to choose a non-profit model more dependent on public subsidies over privately-financed developments that sought to answer the administration's call for more workforce-aligned housing stock. In each case, city officials said that they opted to endorse proposals that seemed to enjoy a stronger base of support from nearby residents and stakeholders.
Dorchester Bay proposal: A rendering shows plans to redevelop the 65 East Cottage Street parcels.At 65 East Cottage Street in Uphams Corner, where the now-demolished Maxwell Box Company plant has long been the target of community calls for redevelopment, today's vote will award the redevelopment project to Dorchester Bay Economic Development Corporation, a longtime stakeholder in the neighborhood, who partnered with Boston Capital-Escazu Development. Dorchester Bay's $34 million proposal will convert the rail side parcels into a mix of affordable rental units and condos that will be dependent on securing low-income tax credits from both the city and the state.
"This development team had the overwhelming support in the neighborhood," said Christopher Rooney, the project manager for DND who has supervised the public input on both projects. "It hit all of their big development guidelines. They wanted affordable housing, economic development, job creation, and public space."
The Dorchester Bay plan beat out a competing plan advanced by Corcoran Jennison Associates, a Dorchester-based company that has a long track record of building and managing mixed-income housing developments, including Harbor Point. (The Dorchester Reporter is a tenant of Corcoran Jennison in the Bayside Office Center.)
The Dorchester Bay plan would include 92 units of housing in total with 50 percent classified as moderate/market rate and 50 percent labeled as affordable. A larger apartment building would contain most of the units, with six detached two-family buildings on the perimeter. Their proposal also calls for a new 20,000 sq. ft light industrial space that is intended to house new tenant that would subdivide the building for small businesses.
The Maxwell site, which formerly housed a bread factory, is a 2.5-acre industrial parcel that sits adjacent to the Uphams Corner MBTA station. It was seized by the city in 2011 for its owner's failure to pay back taxes and was briefly considered as a new home for a municipal storage yard in the waning days of the Menino administration.
In Mattapan, there were three proposals in serious contention to win rights to the 113,695 sq.ft Core Ford parcels along Cummins Highway. Today's vote awards the site to a trio of non-profit partners led by the Caribbean Integration Community Development that will result in the construction of 70 units of housing characterized as "affordable to working families." Most of the units— 46— will be housed in a four-story building along Cummins Highway. An additional 24 units will be in townhouses along Regis Street. The complex will include a 10,366 sq. ft. pre-teen activity center that would be managed by the Boys and Girls Clubs of Boston, an amenity that Rooney said was popular in the community.
The bulk of the land sits along the MBTA-owned right-of-way for the Fairmount corridor, not far from where a new $40 million station will be built by 2017.
"Frankly, in a lot of the feedback we got, the majority of the feedback was supportive of this development team. One thing cited more than anything other was the Boys and Girls Club," Rooney told the commissioners."
The other partners on the successful Cote Ford proposal are the Archdiocese Planning Office for Urban Affairs and AFL-CIO Housing Investment Trust, which requires that all jobs on the construction site go to union workers or trainees. Like the Uphams Corner project, the Cote Ford plan that was approved today will require federal low-income tax credits awarded through the state. In total, the project is projected to cost $25.8 million to develop, according to city documents.
The winning bid beat out two other proposals vetted by DND, including a plan by the Codman Square Neighborhood Development Corporation (NDC) to create a mixed-use development with 108 rental units and 29 "homeownership units"— all of which will be marketed as affordable— along with three commercial spaces. Another plan submitted by the Corcoran Jennison Companies for a mixed-use development with 92 market-rate rental units, 16 affordable rental units, and 11,000 square feet of commercial space was also not selected.