By Griffin Connolly, Special to the Reporter
July 14, 2016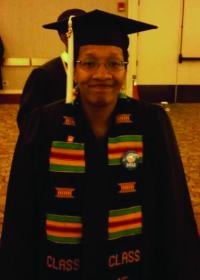 According to the office of Massachusetts Attorney General Maura Healey, its Student Loan Assistance Unit – a team of insurance and financial services attorneys assembled in 2015 – has so far "helped hundreds of borrowers to date" climb out of default, eliminate wage and tax return garnishments, consolidate loans, and submit forms to extend payment terms.
Among that number is Uphams Corner resident Ginnette Powell, who turned to the AG's office last winter as she faced a mounting personal debt crisis.
Powell, 52, graduated from Northeastern University's evenings-only undergraduate program in 2011 and quickly landed a position at Boston University processing and handling donations. Even with the full-time job, she couldn't put the brakes on a runaway train of debt.
For four years, she struggled to juggle bills but was finally forced into default on her federal student loans last summer. From there, the weight of endless mortgage payments and monthly wage garnishments pressed firmly on her personal finances for basic necessities like clothing and food.
Powell lost weight. She could barely sleep, and was chronically tense. She remembers bringing meager handfuls of change to Daily Table, an affordable grocery provider in Codman Square, to buy a loaf of bread.
"If it weren't for my friends paying a bill for me here and there, I don't know what I would have done," she said. In times of greatest need, neighbors and friends chipped in to pay bills for gas and electricity. They even lugged over bags of food for her five cats.
"It was that dire a situation," she said.
By the time she turned to Healey's office, Powell had run up a bill of roughly $100,000 in collection dues and interest and was seeing $600 per month withheld from her earnings via garnishment.
That has changed since Powell learned about Healey's team via Twitter last year. After more than 100 hours of correspondence with attorney and legal analyst John-Michael Partesotti – including dozens of promptly answered emails and returned phone calls – Powell has eliminated one wage garnishment and is working to structure a rehab plan for another.
The AG's initiative, announced in November of 2015, placed its crosshairs directly at federal government-contracted servicers, which ostensibly are subsidized to guide debtors through repayment, and a crop of private organizations that sprouted from their seeming failure and, illegally, solicited fees for consultation.
"Student debt has surpassed $1.3 trillion in this country, pushing students and families further behind when it comes to building their future," Healey told the Reporter in a statement Tuesday. "Borrowers are struggling, servicers are not always doing their jobs, and scam artists are taking advantage. Students need a place where they can get help now and our office has stepped up."
Through Partesotti's counsel, one of Powell's $300 per month wage garnishments has been wiped off the books and replaced by a $33 monthly payment. If she completes those on time for nine of ten months, she'll be eligible for a more amenable income-based schedule. Another wage garnishment is still in place, but she's confident that with Partesotti's guidance she'll reach an affordable agreement with the collection agency.
"He's very much an advocate for student loan borrowers and making them feel empowered and not alone," Powell said. "This is the best assistance I've gotten – through the attorney general's office."
In 2010, the US Department of Education established new student aid rules targeting for-profit schools, which many students felt had misled them on "what was and was not being offered, the way programs could be paid for, and their job prospects upon completion."
State AGs took their cue accordingly, and Healey has been at the forefront of the charge against for-profit institutions. In March, her office announced that more than 2,000 former students at Corinthian Colleges were eligible to have their federal loans forgiven. In February, she filed suit against Hosanna College of Health alleging that "it operated without a license and misrepresented its training programs, leaving dozens of students without promised careers in nursing," according to a press release.
But the rules and programs have had unintended side effects for traditional universities, too. "There's a lot of laxness in the way colleges market their institutions," Mark Kantrowitz, an expert on student financial aid, scholarship, and loans. "They'll say, 'It's a pathway to getting your job,' things like that. But if you're going to college for underwater basket-weaving, you're not going to get a high-paying job after you graduate, and some places can run into a lot of trouble."
As more students and graduates make a case against their schools, including traditional universities like Powell's alma mater, and the debt they incurred to attend, and courts rule in their favor, it will be the taxpayers who'll have to cover the forgiven loans.
"The US Department of Education is trying to set regulations, and the language isn't targeting for-profit colleges exclusively," Kantrowitz said. "The department has maybe underestimated the magnitude of what's going to happen with this."
Still, many Massachusetts residents, like Powell, feel indebted to the AG's office for its expert insight into figuring out ways to affordably pay off their student loans. "Under Attorney General Healey's administration, this is a highlight," Powell said. "This is something that's working. It's helping people, especially if you look at economics and how much student loans are a burden to people."