By Meggie Quackenbush, Reporter Correspondent
January 27, 2016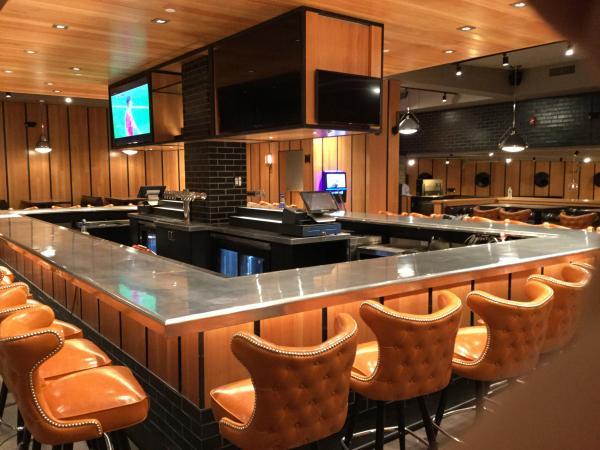 Dorchester will be getting a sparkling new addition next week with the opening of Dorset Hall, a 5,300-square-foot restaurant and bar on Neponset Avenue.
The restaurant, which sits on the site of the former Boston Party Rental building at 367 Neponset Ave., includes two levels of American-style dining with 15 beers on tap, and will be open for lunch and dinner, with parking for 40 vehicles across the street. Owner Paul Adamson said that he plans to hold a soft opening next week, and a grand opening in the near future that will feature a visit from Boston Mayor Marty Walsh.
"We're shooting to open before the Super Bowl, the middle of next week," Adamson said. "Hopefully we'll add good food and good hospitality to the area."
(Update, Feb. 10: Adamson says that the eatery will be open on Feb. 17.)
Dorset Hall: The downstairs dining room at Dorset Hall features a second, smaller bar. Meggie Quackenbush photo
Adamson said that he and his business partner, Mark Cummings, who have owned and operated Shenanigans Pub in South Boston for over two decades and opened Assembly in Quincy three years ago, bought the Neponset Ave. building in 2014 for $1.5 million. The restaurant will sit on the ground floor of a 31,500 square-foot development, Phase Two of which will consist of the construction of 22 rental units and 33 additional at-grade parking spaces on the site.
The renovation project was led by the Brookline architectural firm Sousa Design, which transformed the party-supply store into a 265-seat restaurant with industrial-style lighting elements, wood-paneled and railroad tile walls, and two bar areas featuring sleek counters and flat screen televisions. Adamson said the restaurant will add between 40 and 50 jobs to the neighborhood, and he plans to hire locally. He said he hopes Dorset Hall will be a welcome presence in the neighborhood, adding vibrancy and increasing foot traffic to businesses in the area.
"I love the location, I've loved it for years," he said. "We've been watching for seven, eight, nine years and thought it'd be a cool space for a bar."
The eatery was originally going to be called "The Dorchester." But Adamson and his team went with Dorset Hall— which blends the names Dorchester and Neponset. It's also a historical reference to Dorset, England— the county where the original Dorchester is situated.
While the residential element of the development will not be completed for another 10 months, Adamson said he's excited to get Dorset Hall off the ground this month, and open its doors to the community.
"Dorchester is moving forward, for the better," he said. "We're here to stay; we're not here to hit and run. We're just excited to be in the neighborhood."
Dorset Hall exterior from Neponset Avenue