By Jennifer Smith, Reporter Staff
April 21, 2016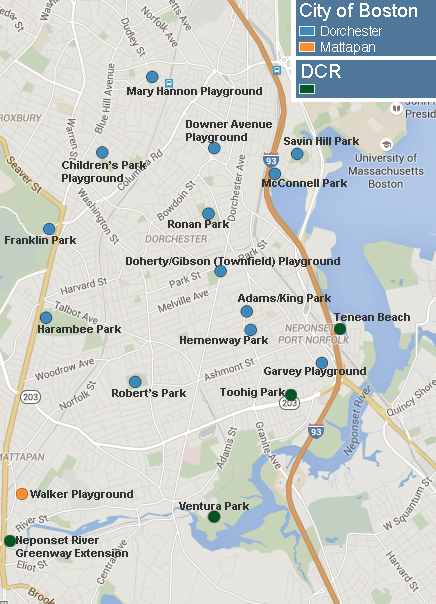 Dorchester and Mattapan residents are seeing a surge of investment in their green spaces from the state and the city, with numerous park and playground projects earmarked in Mayor Martin Walsh's proposed budget and advanced by Dorchester's state legislators.
The Department of Conservation and Recreation, which manages the state's parkland, has three extensive Dorchester and Mattapan projects in the pipeline:
• The upgrade at Ventura Park's playground in Lower Mills is under way, said DCR Deputy Commissioner Nick Gove. The park was cited for a $250,000 shot of state funding in 2014 for the playground and baseball field that was promoted by state Sen. Linda Dorcena Forry and state Rep. Dan Cullinane.
"It is always tough to prioritize projects," Forry, who is married to Reporter publisher Bill Forry, said at the time of the budget announcement. "However, Ventura Park is an asset that has required much needed attention." The park's elements were last upgraded over 20 years ago, and DCR said the project is expected to cost $141,000.
• The Neponset River Greenway expansion has seen steady progress through the fall, winter, and early spring. (see story, Page One).
• The DCR recently announced plans for long-sought improvements to Toohig Park in Neponset, for a total investment of $175,000. Two phases of improvements are scheduled, Gove said, beginning on May 2 with the replacement of the 18-foot chain link fencing, removal of invasive trees, curb improvements, the replacement of the clay mix on the park infield, and the seeding over in disturbed park areas. The playground will get a complete overhaul in phase two later in the summer, Gove said. All existing playground equipment will be replaced.
"This is a part that has been underserved for the last 10 years because of the condition of the park," said state Rep. Dan Hunt, adding that the renovations and community investment "will bring active, positive use, which will benefit the neighborhood for years to come."
Still in the DCR's sightline is a relocating the playground on Tenean Beach. The department will be seeking community input on an area of higher ground suited for the playground equipment, Gove said. "For folks that are familiar with Tenean, they know that unfortunately it floods during storm events; even an astronomical high tide can inundate that playground."
•••
Parks and Recreation funding accounts for $222 million of Walsh's $2.97 billion proposed budget, which has yet to be taken up by the City Council.
Dorchester and Mattapan projects include completing construction at the Hemenway Playground ($552,000) and at Savin Hill Park. The proposed budget for the latter is $265,000 for access improvements, the creation of an overlook, and seating area and fence installations.
Two projects involve both planning and improvement financing. Franklin Park is slated for a $75,000 master plan update and $5 million in pathway improvements. The Harambee Park Master Plan design is budgeted for $125,000, with implementation estimated at $3.7 million, including a presumed new playground, pathway, and lighting improvements.
In the design phase are a number of mid-range playground projects: The Children's Park Playground ($996,000), Roberts Playground ($1.54 million), and the Adams/King Playground ($500,000). The Garvey Playground tops the budget proposal for this group at $5 million for improvements to the play lot, field, lighting, pathways, and courts.
A series of new projects slated for comprehensive renovations has yet to be scheduled. These include: The Doherty-Gibson playground in Fields Corner ($500,000), the Ronan Park baseball field ($500,000), Phase II at Mary Hannon Playground on Dudley Street ($896,000), Downer Avenue Park on Jones Hill ($1.15 million), and the McConnell Playground in Savin Hill ($3.69 million).