By Jennifer Smith, Reporter Staff
March 30, 2016
About a hundred community members got their first look at the proposed Morrissey Boulevard revamp at a Department of Conservation and Recreation public meeting on Monday night at the Leahy Holloran Community Center where DCR officials laid out their top priorities for the oft-waterlogged stretch of road that stretches from Kosciuszko Circle to Neponset Circle.
The primary goals, explained DCR project engineer Mark MacLean, are addressing storm water and flooding; balancing pedestrian, bicyclist, and vehicular needs; and developing the parkway design. Residents are being brought in at the earliest design stage, with the understanding that the process is expected to stretch over more than a year.
Morrissey Boulevard's regular flooding is caused in large part by a combination of its positioning, coastal forces, and the degradation of drainage infrastructure. To compensate for anticipated increases in sea level rise, designers are mulling installing flood walls and raising the road. Green space can help with water runoff and filtration, and various water storage tools could help modulate rising water and prevent it from swamping the roadway.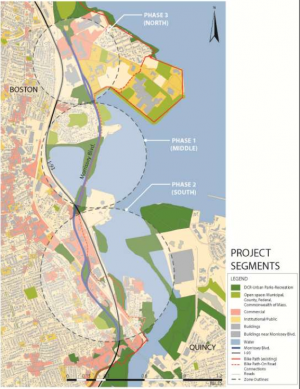 Map shows Morrissey Blvd. segments.The design is being undertaken with a 50-year durability in mind. "We want it to be a good road up until at least 2070," said Jerry Friedman, municipal and urban design manager for HDR Inc.
Analyses of vehicle and bike/pedestrian traffic identified Columbia Point as having the highest amount of pedestrian crossings, due in large part to the presence there of UMass Boston. DCR presenters noted that the addition of the 1,000-bed dorms planned for the area will increase foot traffic.
Road traffic will only increase as new developments rise along the parkway, said Bruce Shatswell of Grant Street, noting that the neighborhood is experiencing the same boom as the rest of Boston. "Let's not fool ourselves into thinking this road is in isolation of what's going on around it." He continued, "I walk all the time on Morrissey... We've got to have a way across that boulevard for those of us with two feet. It's Dorchester's Dorchester Bay. It's not Morrissey Boulevard's Dorchester Bay."
Neighborhood connections will also be incorporated into the design, so that residents will have access to the Neponset River Greenway stretch along the water's edge. From an aesthetic angle, the DCR's MacLean said they want the boulevard to "look like more of a parkway and less like an urban highway."
Monday's full presentation, including flood maps and traffic analysis, is available on the DCR website. The public comment period on the first design stage ends on April 18. Another public meeting is planned for May at which design concepts will be presented. Additional public meetings will be scheduled as the design progresses.
The project is fully funded through the design phase, which is expected to cost $3.2 million, said HDR's Friedman.
"Having the $3-plus million design up to 100 percent is a huge deal," said state Rep. Dan Hunt of Dorchester. "A lot of the folks in this building have worked on this for years and years."
The revamp will be broken into three segments: Kosciuszko Circle to Bianculli Blbvd. at the entrance to the UMass Boston campus; Bianculli to Freeport Street; and Freeport Street to Neponset Circle. The middle segment of the stretch historically has been the most vulnerable to flooding, officials noted, and if the project proceeds in stages, that segment will receive priority and could take about 36 months to complete.
Both the northern and southern road segments would take about 24 months.
Officials said that construction of all the segments is subject to funding availability. Pending the necessary funding, DCR officials anticipate a pre-construction public meeting in May 2017.
"We're talking about a potentially $40 million project," Hunt said. "This administration has shown a true commitment to this project, and I know that the governor is working on his final capital budget now… but this administration and your elected officials are working on this, and I feel very good about where we are on that."