By Jennifer Smith, Reporter Staff
January 6, 2016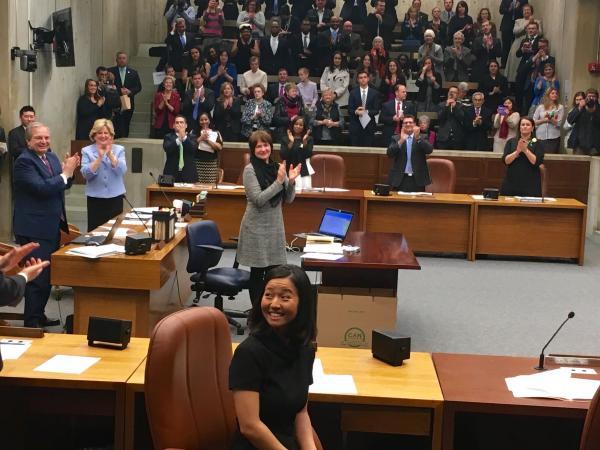 On Monday, amid much singing and fanfare at historic Faneuil Hall, new city councillors Andrea Campbell of District 4 and Annissa Essaibi-George, an at-large member, and 11 returning incumbents were sworn in by Mayor Martin Walsh. Later, in the council chambers, at-large Councillor Michelle Wu took the president's chair the first Asian American to hold the seat.
The reality of increased diversity – of race and gender – was the talk of the day, moving at-large Councillor Ayanna Pressley to note the presence of four women on the council and observe that it "looks very different than when I first took office in 2010 as the first woman of color and one of only two women serving on the body."
At the swearing-in, Walsh, anticipating Wu's election, said the council had the chance to make still more history, but "it's too soon for me to comment on that. We'll have to see what the vote will be."
The vote was unanimous. Councillor Matt O'Malley, Wu's challenger-apparent, withdrew his candidacy Monday night, clearing the way for her presidency to begin.
The 30-year-old Wu outlined what Walsh described as an "aggressive agenda" for the council as she pledged at the podium to address Boston's "historic inequality and uneven opportunity.
"This lack of opportunity has led to stark divisions in Boston," she said. "In some parts of our city, we see increased profits, gleaming offices, and growing workforces. But in too many parts of our city, we see skyrocketing housing costs, nightly gunshots, devastating opioid addiction, insufficient mental health supports, imbalanced schools, and stagnant wages that haven't kept pace with the costs of supporting a family."
Throughout her two years on the council, Wu has stressed the importance of an active municipal government and its power to enact tangible change in residents' lives. On Monday, she instituted two new committees – one on homelessness, mental health, and addiction, the other on jobs, wages, and workforce development – as well as the expansion of the Public Safety Committee's portfolio to include criminal justice.
Members of Boston's State House delegation attended the inauguration ceremony, and US Sen. Elizabeth Warren was at the opening council meeting to see Wu, a onetime student of hers at Harvard, assume the presidency.
"When I first met her, I think neither one of us thought we'd end up here," Warren said from the podium. "I knew there was something special about her. What I learned over time is that she's not just a woman full of good ideas and a passionate heart, but a woman who gets out and does the hard work that needs to be done to make a difference."
Essaibi-George said Wu's agenda was straightforward, necessary, and coincided well with her get-things-done mentality. "I'm very happy that she's taking such an aggressive stand toward our work with the council," Essaibi-George said on Tuesday.
Nearing the end of their first days as councillors, the 33-year-old Campbell and 41-year-old Essaibi-George and their staffs handled some constituent phone calls, but primarily they took time to familiarize themselves with their new quarters, an orientation of sorts, they told the Reporter, navigating the phones and waiting for council computer logins so they can receive emails.
Their staff structures are taking shape. Essaibi-George has selected Alana Olsen of Allston, former executive director of Allston Village Main Streets, as her chief of staff. Campbell's office setup is communal, with her campaign organizer Leila Quinn and field director Caroline Kimball-Katz splitting a combination of the usual chief of staff duties.
While council committee assignments have not been announced, Essaibi-George said she expects to be on the education committee. "I think that's a very natural fit for me," the mother of four and former teacher said. She also hopes to have a voice in public safety and economic discussions.
Since her defeat of 32-year incumbent Charles Yancey in November, Campbell said on Tuesday that she had spoken to the former District 4 councillor only once when he congratulated her on her victory, and there was no passing of the proverbial torch regarding how to approach her new constituents. This is not a hurdle for her team, she said.
"We're coming in on a clean slate, and setting things up and doing things as we want to do them," she said, adding, "We're working to set the tone for this office, and this week is really about setting up that foundation."