By Griffin Connolly, Special to the Reporter
July 6, 2016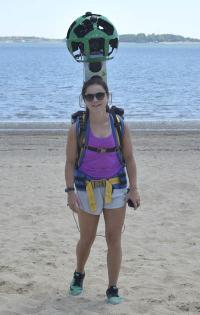 Google Trekker: Christina Balzotti wearing her equipment on Malibu Beach. Joe Prezioso photoIf you happen to see what looks like a space-age cyborg roving the beaches of Boston this summer, have no fear. It's only Save the Harbor intern Christina Balzotti and her Google Trekker gadgetry, a 50-pound, 15-camera apparatus that snaps 360-degree photos of its surroundings every two seconds.
Last Thursday, Balzotti walked the length of Dorchester's Malibu and Savin Hill beaches and stopped by Carson Beach in South Boston for good measure. By the end of the summer, she'll have provided virtual touring footage for nine beaches in the greater Boston area, from Nahant in the north to Nantasket in the south.
The goal of the project, according to Bruce Berman, Save the Harbor's strategy, communications, and programs director, is to showcase Boston's waterfronts and help advertise them for use. "Twenty-five years ago, the harbor was a sewer," he said, "and these beaches were a mess. After $5 billion in investment in clean water, tens of millions in parks and islands, these beaches are assets, not liabilities. We think it'll increase interest in parks and give people information to decide where they went to go."
Since 1986, Save the Harbor, a non-profit organization, has acted as the Boston waterfront's primary advocate, working closely with local and state politicians, waterway clean-up commissions, and members of the community.
Susan Tracy, a Save the Harbor Board member, first heard about the Google Trekker program in the winter from an employee at her office. Save the Harbor has a longtime relationship with Google, which gives the organization an annual grant for AdWords, the tech company's advertising tool. Pitching Google to borrow the equipment was, consequently, a cinch, and five months later, it arrived with nary a hitch.
"It'll be great for both of us," Berman said. "It allows us to show off these beautiful beaches, and it allows them to showcase their technology."
With the Trekker slung snugly over her shoulders and the waist strap buckled, Balzotti has found herself bordering on celebrity status. At Carson Beach last week, a tattooed man of about 50 requested permission to take her photograph.
This happens often, apparently, and the inquiries range from the staid to the downright bizarre. "Some lady asked me the other day if it shot people," Balzotti said, laughing. "What, like laser beams? This isn't War of the Worlds – it's Google."
Berman has faith that the 360-degree beach tours provided by the Trekker program will attract families and other groups of fun-seekers on days like last Thursday, when the sky was so blue at Carson Beach one could hardly make out a distinct horizon line between it and the ocean. The more options at a traveler's disposal, the better.
"Consumers make choices based on what they know, not what they don't know," Berman said. "If you're a 22-year-old student at Boston College, you might just pack up your car and head north. But if you're a family, you're going to want to gather as much info as possible before deciding where to go."