By Reporter Staff
June 8, 2016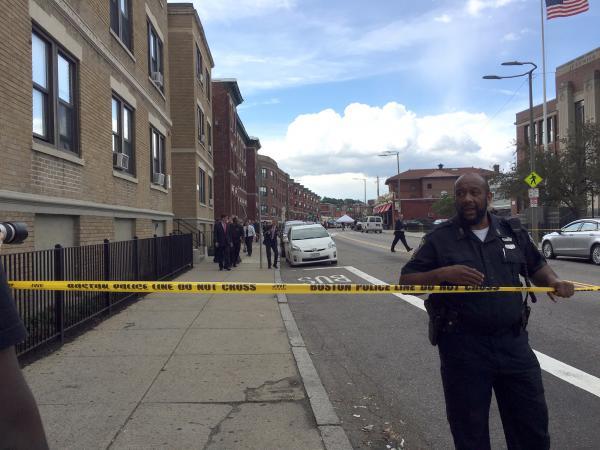 Updated Thurs., June 9 at 11:15 a.m. -- A 17 year-old student was shot and killed and three other people including a woman in her late 60s were injured in a shooting on Washington Street near the Jeremiah E. Burke High School Wednesday afternoon. The incident took place within a block of the school as students were assembled outside during a fire drill.
Police and emergency medical services were alerted to multiple gunshot victims at about 1:15 p.m. Of the four victims, Lieutenant Rich McCready with Boston EMS said two were transferred to Boston Medical Center.
The 17-year-old male victim was declared dead at the scene, police said. Though police have not officially identified him, students and family members have identified him as Raekwon Brown, a junior at the Burke school. (Boston Police have since confirmed his identity.)
No arrests have been made in the shooting. Boston Police Commissioner William Evans has called for the community's aid to identify a shooter or shed light on the circumstances of the incident.
"When a 17-year-old dies on the street outside of school, we should all be outraged," Evans said outside the Burke on Wednesday. "And shame on anybody who doesn't step up to the plate and help us solve this."
Raekwon BrownA 15 year-old student said that she and other students were gathered outside of the high school on Washington Street after a fire alarm went off when she heard four shots ring out.
"He just dropped to the ground," a few feet away, she said. "I didn't see who shot him. Everyone just ducked to the ground and I just looked away. I can't look at that."
Further down the street, she said, she heard more shots.
The Burke, Dearborn STEM Academy, which share a building, and the nearby Lilla G. Frederick Pilot Middle School and Martin Luther King schools were placed in safe mode during the afternoon, Richard Weir, a spokesman for Boston Public Schools, told the Reporter. Safe mode was lifted at 2:15 p.m., he said.
Jennifer Peres, an employee at the Sun Pizza restaurant across the street from the site of the shooting, told the Reporter that she and three other employees were in the kitchen when they heard "six or seven" gun shots. The workers hit the floor and remained there for "about five minutes" until they heard the police sirens.
When she emerged from the back of the restaurant, Peres said she looked out onto the street and saw what appeared to be a body on the sidewalk.
"I don't recall anything, really," Peres said. "But he was lying there."
Outside the school Wednesday, police in bullet-proof vests were seen entering buildings across the street. Cars were permitted to leave the Burke parking lot around 3 p.m., with police pulling aside yellow caution tape to allow vehicles to exit before again sealing off the scene.
Mayor Martin Walsh, speaking to reporters just after 4:10 p.m., said, "It's a sad situation where we had a student who was in class today shot a half-block from the school."
Walsh said that other "innocent people" were shot at the scene.
Officials said that two other teenaged students and a 67-year-old woman were injured in the shooting, all non-critically.
Mayor Walsh, Commissioner Evans speak about shooting death of student near Burke High School on Wednesday afternoon.: Jennifer Smith photo
"I am deeply saddened by the loss of life that occurred today in Dorchester," City Councillor Andrea Campbell said in a statement. "I extend my deepest thanks to Commissioner Evans, Superintendent Buckley and the rest of the Boston Police Department for their swift response to the situation. Loss of life of a young person is a tragedy, and we cannot afford to respond to these incidents in the same manner.
"While law enforcement is doing their work, I am encouraging the Administration to dispatch more trauma counselors to the scene now and in the days ahead. I will continue to work with the Council and the Boston Center for Youth and Family's Street Worker program and the many other youth development programs in the City of Boston to ensure our young people have the resources and opportunities they need to reach their God-given potential," said Campbell.
Trauma counselors were made available Thursday, officials said. Superintendent Tommy Chang, speaking with the police commissioner and mayor, said "the kids are going to be safe at this school," which was making resources available to restore some semblance of normalcy.
Talking to reporters outside the Burke school on Thursday morning, Commissioner Evans expressed frustration that students were not stepping forward to help the District Attorney's office in identifying and locating the perpetrator.
"There are plenty of people who know what happened yesterday," Evans said. "They've got to look at their conscience and step up to the plate here and give us the information. Enough with the 'stop snitching' stuff. We've got a mother who lost her 17-year-old child. Step forward, have some courage and solve this one."
Jennifer Smith and Griffin Connolly contributed to this report.