By Jennifer Smith, Reporter Staff
May 19, 2016
Road trip: City Councillors Frank Baker, left, and Tim McCarthy recently visited Philadelphia to see how their transit agency cares for an aging fleet of PCC cars. Courtesy Cllr Baker's officeWith local officials continuing to push for the preservation of Mattapan's historic high-speed trolley line as an integral economic and historic part of the communities it runs through, the state's Department of Transportation could take a cue on trolley maintenance from Philadelphia, state Rep. Dan Cullinane and City Councillor Frank Baker told a gathering of the Lower Mills Civic Association on Tuesday night.
As laid out in MassDOT's spending plan, the PCCs (Presidents' Conference Cars) are to receive about $3.8 million worth of maintenance next year, with another $5 million set aside for near-term investment in the trolley service.
Some city and state officials, while they are glad the trolley is going to be funded in the short term, have been seeking to ensure that the cars remain the form of transit between Ashmont and Mattapan Square.
In March, Cullinane and nine other elected officials sent a letter to MassDOT asking for continuing investment in the trolley. State Sen. Linda Dorcena Forry, whose office was represented at the civic association meeting on Tuesday, has been a dogged advocate for the line.
Cullinane laid out the case on Tuesday night: "What we need to see is our situation as it is compared to other states, other cities, other situations like we're dealing with to see what's doable, to see what the costs really are, and what our options are moving forward."
Councillors Baker and Tim McCarthy, who represent constituencies served by the trolleys, recently traveled to Philadelphia to assess that city's similar system. The trolley repair center in Philadelphia is "a very, very impressive facility," Baker said. A complete refurbishment of a PCC car costs about $1.2 million in Philadelphia, he said, an effort that involves dismantling the cars and re-building them from scratch.
Those refurbished cars are essentially returned to mint condition and, with the regular maintenance, are expected to last 20 to 30 years. The 18 or so PCC cars and some 130 other trams in the city are cycled in for maintenance in cycles every five years, Baker said.
Boston's PCC cars have a longevity advantage, Baker said. While the Mattapan trolley uses a dedicated route apart from other traffic, the Philadelphia cars are operating in the streets. "All the cars are on tracks that are in the streets, so they get hit by trucks and hit by cars, and are in accidents, and get beat up a lot more than ours do," Baker said.
Cullinane and Baker emphasized that the demand is not limited to preserving the PCC cars operating at this time; it's also about preserving a similar trolley system along the line. "I think this neighborhood's been pretty clear they want to keep those cars, and we'll keep them as long as we can keep them," Baker said. "But if we can get the T to agree to refurbish cars one at a time… that might be an option for us."
All the officials remain resolutely against having a shuttle bus line replacing the trolleys, and attendees at the meeting made it clear that the trolley line is crucial to their daily commutes to work, school, and leisure.
A MassDOT study of the trolley system is expected to be completed by late this summer. Cullinane said he hopes it will include evaluations of similar PCC car systems as guidance.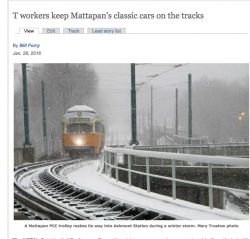 Trolleys kept on track by MBTA workers: More coverage- click here.