By Bill Forry, Editor
September 22, 2016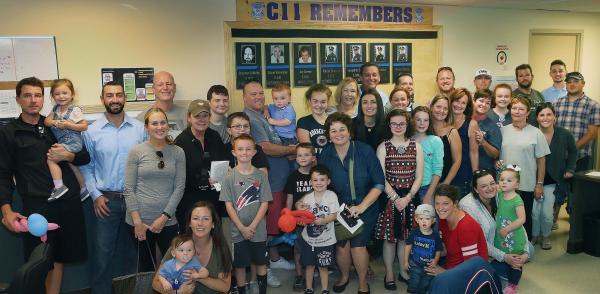 Boston Police in District C-11 gathered at the Gibson Street stationhouse on Saturday afternoon for a family day celebration that featured the dedication of a memorial wall featuring Dorchester officers who have died over the last three decades.
The display on the wall of the station includes an array of seven plaques featuring portraits of the officers memorialized, including Det. Sherman Griffiths, Det. Edwin Kenneally, Det. Jay Greene, Officer Patrick Donovan, Officer Joseph Zanoli, Officer Michael Baker and Sgt. Det. Richard Clancy.
Mayor Martin Walsh, Police Commissioner William Evans and Chief William Gross attended the dedication event, which included individual unveilings of each plaque and remarks from family members. Officer Jimmy Dorion led the ceremony, which also included a prayer by Fr. Richard 'Doc' Conway and a performance of "Amazing Grace" by a member of the Boston Police Gaelic Column.
Capt. Tim Connolly, commander of the C-11 district, said that the memorial wall and the Family Fun Day that followed was the initiative of officers, led by Officer Dorion.
C-11 Boston Police Memorial: Officer Jimmy Dorion, who led the effort to create the memorial wall, led the ceremony last Saturday. Bill Brett photo
"His vision came alive with the help of other officers-," said Capt. Connolly. "It was great to see. We had over 300 people there— including children— who got to share stories and memories and enjoy the day."
For most family members it's probably the first time they've been in the back area of a police station and to see where their other family lives and works and to see first hand what it's like to work here at C-11 ," said Connolly.