By Andy Metzger, State House News Service
June 29, 2016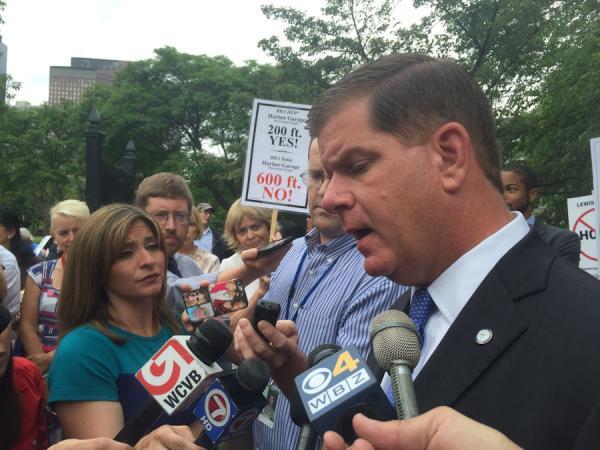 Boston Mayor Marty Walsh expressed concern Wednesday after the second top member of his administration was arrested on charges that he extorted a music festival, pressuring it to hire union workers.
On Tuesday a federal grand jury indicted Tim Sullivan, Boston's chief of staff for intergovernmental relations and senior advisor for external relations, and the 36-year-old Dorchester resident was arrested Wednesday morning, according to federal prosecutors. He is due in federal court at 2:30 p.m.
"If these allegations are true, simply really disheartening and concerns me. I mean I love being the mayor of the city of Boston. I hold everyone to a high standard of integrity," Walsh told reporters Wednesday morning at a coffee meet-and-greet in the North End's Christopher Columbus Park, the first public event in a day that the mayor plans to wrap up with a WBZ radio appearance on Nightside with Dan Rea.
The arrest of Sullivan, whom Walsh has known for years, follows the May indictment and arrest of Ken Brissette, the city's 52-year-old tourism chief, part of a federal probe that has rocked City Hall.
The new indictment charges both Sullivan and Brissette with extortion and conspiracy to commit extortion on a Boston music festival widely acknowledged to be Boston Calling. According to the new indictment both Sullivan and Brissette met with the festival organizers in September 2014, just three days before Boston Calling was set to begin on City Hall Plaza with musical acts such as Neutral Milk Hotel, The Roots and The Replacements, according to the fest's promotional materials.
At the Sept. 2, 2014 meeting the two City Hall officials allegedly told the organizers half its labor force needed to be members of the International Alliance of Theatrical Stage Employees (IATSE) Local 11. That afternoon, the festival hired eight IATSE laborers and one foreman "as a result of the demands," and the city soon after issued the festival its necessary permits, the indictment states.
"We don't encourage people to use union labor. There's a process in place. We have 800 events a year in the city of Boston and the topic of union labor should never come up, and to my knowledge it hasn't," Walsh said.
Both Sullivan and Brissette are on paid administrative leave, Walsh said.
Walsh, a Democrat who represented Dorchester in the House before his election as mayor in 2013, said he has long known Sullivan, a former lobbyist and spokesman for the AFL-CIO, an umbrella labor group.
"I've known Tim for a long time. Certainly it goes back many years back to before the State House days. Certainly I'm bothered by this. Tim has a wife and a young baby at home - a 2-year-old I believe now. So I feel bad for what's happening here, but certainly it's something that I don't stand for. If these allegations are true I'm certainly not happy with it," Walsh said.
In 2011 Sullivan sought then presidency of the AFL-CIO before dropping his bid for the post, which was won by former Sen. Steve Tolman.
In a statement Wednesday, Tolman said, "While I am not privy to the details of these allegations, I have known Tim Sullivan and his family for years. During the time I worked with him, he was dedicated to two things above all else: his own family, and the hardworking men and women of Massachusetts."
On Wednesday the mayor noted he has brought in outside counsel to look at the allegations and initiated ethics training for all department heads and cabinet members.
Before becoming mayor and while he was a state representative Walsh was a top official in the
Boston Building Trades union.
"I know I've done nothing wrong in any of my doings as mayor of the city of Boston. I'm very confident of that," Walsh told reporters on his way to an East Boston waterfront groundbreaking with Gov. Charlie Baker the afternoon of the May 19 Brissette indictment.
The former indictment against Brissette did not charge the tourism chief with conspiracy. That earlier indictment said Brissette and "at least one other City Hall employee" repeatedly pressured the festival organizer to hire union labor. Wednesday's indictment alleges that Sullivan participated in that pressure.
Walsh said he did not see Sullivan's indictment coming even as news media reported on Sullivan's involvement in discussions around Boston Calling.
"No I didn't, but the indictment a month ago, there was an unnamed name in that indictment and I'm assuming that this was the unnamed name," said Walsh, who said he's "offered to work very cooperatively" with federal prosecutors and declined again to say whether he had testified before the grand jury.
Asked if he thought this was "the end of it," the mayor said, "I hope so... I read parts of the indictment today and it didn't seem like there was anything else that was going to come of that indictment."