By Ryan Daly, Reporter Correspondent
August 24, 2017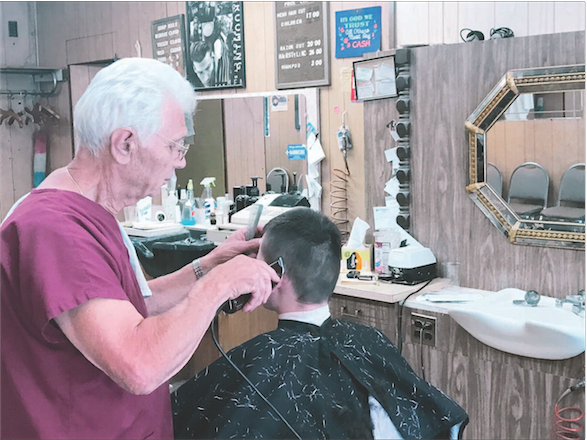 Towel over his shoulder, scissors in his hand, and Frank Sinatra on his radio, Sam Venuto carries on day-to-day at 929 Dorchester Ave. as the owner of Avenue Barber Shop in Savin Hill. He has, by all accounts, marched to a consistent daily beat for the last 50 years.
In 1957, three years after he arrived in America from Italy, and a decade before he took ownership of the shop on the Avenue, haircuts were only a dollar, compared with today's average $17 price tag.
"Back then," the 79-year-old Venuto, said, "Everybody had a big family. Everybody's family had a father, and every father said, 'Go, go get those hairs cut,' and it didn't really matter what the kids wanted. Every two weeks, people were coming in. Again, today, people want it short. Shorter than ever before, cut all the way up."
"You know," Venuto said, laughing, "at some point in between, being a father went out of business."
This anecdote, as all others Sam delivers, comes off casually, as do other insights that he has gathered after so many years in business.
During the 1970s, men—getting even with their fathers —started letting their hair grow long. Barbers struggled and Venuto had to let an assistant go. He has been the shop's sole owner ever since. This week, when he retires, Avenue Barber Shop will retire with him.
Sam shrugs when it's brought up that, for some families in the neighborhood, four generations worth of hair has been cut with his, and only his, hands. The Avenue Barber Shop matches his personality; it's a place that would be totally discrete if it were not for the miniature barber's pole that spins on a column near the front door. Sam's customers, though, aren't so humble.
"He's like the foundation around here," said 58-year-old Mark Lydon as Sam went to work on his hair for a final time. "Him retiring, it's like a divorce. Who's going to have custody of my hair now?"
Lydon doesn't have to tell Sam what number he wants on the side, or how much to cut off on top. They talk, instead, of Lydon's upcoming trip to Ireland as Sam shapes him up in the same way he has since Lydon started coming in when he was 16.
"Sam was out for two weeks some years ago," Lydon said. "I had to get my hair cut, so I went to another place. They just butchered it. Right when Sam got back, I headed in to make it right. Sam, right away, looking at me, said, 'Someone else cut this?' It was like I betrayed him. I never tried going anywhere else ever again."
Then there's Doug Bosse. His nephews, six brothers, father, and grandfather all relied on Sam to shape them up for their big days. Bosse doesn't know if this kind of loyalty to a sole profession and location exists anywhere else in Boston.
"People jump between so many jobs nowadays," Bosse, 52, said. "There's so much movement. But, Sam, he's stayed, asking about my family, checking in, seeing how my kids were doing, every time I'd go in for a haircut."
After he puts his scissors down for good, Venuto has tentative plans to visit Italy, and definitive ones to take care of his garden at home. Besides that, not much is on his docket.
"He doesn't want his work to end," said his wife, Marie Venuto, 72, over the phone. "He's finding it hard to leave. He loves his customers, but three heart attacks, an open heart surgery? I mean, hello! 60 years! It's enough, don't you think?"
Marie is also a veteran of the haircutting profession – she owned a beauty salon right on Dot. Ave. until a decade ago, when she retired. She remembers the long hours Sam put in during the '70s just to stay afloat, sometimes not making it home for dinner until close to 8 o'clock at night.
"Sam always wanted to accommodate his customers," she said.
Marie and Sam both remember when the late mayor of Boston, Tom Menino, came into Avenue Barber Shop to help celebrate Sam's semicentennial in 2007. "I can't tell you how much that meant to us," Marie said. "Him, Mayor Menino, with all of my family. It was an amazing gift that he gave us time, and sat in the barber shop with my grandchildren."
Sam tells of an even more up-and-personal connection with current Boston Mayor Martin J. Walsh. "I remember when his mom would bring him in, when he was just a boy," Sam said, laughing. "But, he's a man now."
With those connections in mind, now seems like a good a time as any to turn the barber's pole off one final time. It's a token from another time, one older than Sam Venuto, but which he fully embodies, back when barbers not only cut hair with their hands, but also healed with their generous hearts.
Editor's note: An earlier version of this story's headline incorrectly stated the number of years Venuto worked in Savin Hill. It is 50, not 70 years.