By Elana Aurise, Reporter Staff
August 10, 2017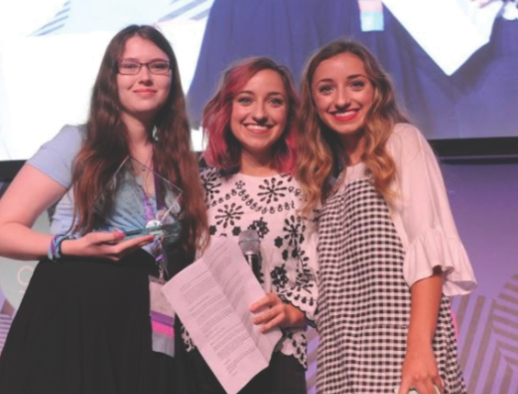 Kiera Fair, the founder and leader of Boston Collegiate Charter School (BCCS) Girl Up, accepted the award for 2016-2017 Club of the Year at Girl Up's Annual Leadership Summit in Washington, D.C. last month.
The Girl Up Club of the Year Award recognizes one club out of 1,400 worldwide that has earned the most points in the Girl Up Community online. Girl Up works to engage students to teach leadership and advocacy skills specifically by having a strong presence in the community. Points are earned through hosting local events like movie screenings, hosting 5K runs/walks or by donating to local women's shelters.
Fair, 17, a rising senior, founded the Girl Up local chapter at the Dorchester school in March 2016. She also serves as president of the regional coalition of Girl Up clubs, which is comprised of over 30 chapters in high school and college campuses throughout Massachusetts and New England.
The club has a total of 50 members. While leading the BCCS Girl Up club, Fair has led a workshop entitled, Plan a Regional Summit, led a breakout Inspire session on community outreach and has represented Girl Up leaders at a dinner with partners and sponsors.
In less than two years, BCCS Girl Up has raised almost $10,000 through various community fundraisers such as raffles, chocolate sales and a 5K run. They won Club of the Year with a total of 17,607 points.
"I am so proud of my club members—both girls and boys—for making the club what it is," said Fair, who lives in Roslindale. "I think that my favorite thing about being the leader of BCCS Girl Up is that people in my school come up to me and say that they love that our club actually does something. As teenagers, it's really hard to feel like you're making a difference, but that is what our club does."
Girl Up started six years ago as a campaign of the United Nations Foundation. The 1,400 clubs reside in more than 80 countries uniting girls all over the world and encouraging them to become leaders and raise awareness and funds to help girls in places where it is hardest to be a girl.
For more information, visit girlup.org.